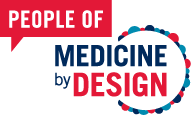 Meet the world-class researchers who are building the future of regenerative medicine. These are the people of Medicine by Design.
"After my undergrad, I did research at the University of Pennsylvania under the supervision of John Lambris. One of the post-doctoral fellows in the lab was from Canada, and she would share stories about studying and living in Toronto. I was curious. I remember we would even use Google maps to "walk" around the U of T campus and other places in Toronto during our lunch breaks. The decision to apply to U of T was easy — not only because it is a world-leading university, but also because Toronto is so vibrant and multicultural. I moved to Toronto for my PhD, and 10 years later, I couldn't be happier with my decision.
I knew I wanted to be a researcher since I was 14. My biology teacher in Greece intrigued me to learn more about the biological mechanisms in living organisms. As I studied more, I became inspired by the idea of developing treatments for challenging diseases that have limited treatment options. That's why I chose to do my PhD in spinal cord injury and my post-doc in abdominal aortic aneurysm (AAA). My research is exploring a therapeutic strategy for AAA. Ruptured AAAs are the thirteenth most common cause of death in North America, and currently there is no medical treatment to reduce the growth of the aneurysm.
I want to push the boundaries of innovation in the field of regenerative medicine. I am passionate about discovering new therapies or improving existing therapies for conditions that are challenging to tackle. Along the way, it is important to me that I empower my fellow scientists to reach their full potential on a professional and personal level.
My first passion outside my research is being a mom to my son. I love seeing him grow and his personality unfold day by day. My second passion is learning new tools and skills. For example, six months ago I started teaching myself how to code in Python and R, as I would like to be able to integrate technology and laboratory research in the future.
I am really looking forward to seeing how things will evolve with the COVID-19 pandemic. Right now, COVID-19 has changed the way we work and socialize in fundamental ways. I am curious as to what the long-term effects of these changes will be. My guess is that the acceleration of our digital engagement that occurred due to the pandemic will make us more efficient and allow for more flexibility and creativity in most aspects of our lives. Also, I hope the fact that the general public became more aware of the significance of science because of COVD-19 research may mark an era where scientific discovery has a more central role in our everyday lives and decision-making."