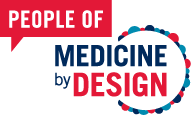 Meet the world-class researchers who are building the future of regenerative medicine. These are the people of Medicine by Design.
"When I was growing up in the Black Hills region of South Dakota, my dad was an archaeologist, and my mom was a librarian. Both of those are professions where you have to be curious. When we would travel to places like Denver and Minneapolis, we'd always spend a lot of time at museums, which isn't what I necessarily wanted to do as a kid, but that exposure helped engender curiosity in me.
My dad had a lab at our house where he did some of his archaeological research. So, curiosity and research were a prominent theme in my youth. I was mostly interested in sports in high school. But I was good at science and infectious diseases caught my interest. Linking up the curiosity I was exposed to with that topic seemed interesting. That's why I studied immunology.
Today, my work is focused on fibroblasts and macrophages. Fibroblasts are cells found throughout the body. They secrete proteins that give tissues structure. Macrophages are cells of the immune system. They help to repair tissue and fight pathogens, which are organisms like virus and bacteria that cause disease. We're curious what happens when fibroblasts and macrophages interact. It's known that if fibroblasts become dysregulated, they can play a role in fibrosis, which is a very serious disease. We are working on understanding, on a molecular level, that process. Our hope is that we can design therapies that may either prevent disease or at least make it less severe.
You can't create drugs to treat disease without understanding the fundamental biology. That's what attracted me to Medicine by Design. The group of scientists is a cohort of investigators with diverse interests but all working toward a common concept – learning all we can about the fundamental science, and there's a lot we don't know, and then applying it. With this kind of work, you need people with expertise in different areas to make something tangible that can help people. It's hard to do things on your own.
In that same vein, I've had a lot of support in getting to this point in my career. I've had some superb mentors on my scientific journey. Drs. Marion Fass at Beloit College, Jonah Sacha who's now at Oregon Health and Science University, Jessica Hamerman at the University of Washington, and Shannon Turley at Genentech, where I did my post-doc work. I learned a lot from all of them.
I think we're at an important inflection point in fibroblast research. Fibroblasts were first described over 100 years ago. Now, with the work of many people, there is a possibility that we will be able to develop therapeutics to fight cancers and fibrosis. We've come a long way.
If I wasn't doing this work, well, I don't think I could do anything else! It might be fun to rent surfboards in Hawaii and surf all the time. But, with me, the deal is that my work in science is what gets me out of bed in the morning. And, of course, my partner and our three kids. We're thrilled to be in Toronto.
When I am working with people on my team, I tell them I believe the key to your career is to know yourself and know your passion. That's the hard part. We can all learn techniques and concepts. The difficult part is digging in and understanding what we want to learn and what drives us.
We opened our lab last summer. We have a great team. Over the next few months, we'll be starting to test if the models we've been developing work. And if they do, I think we'll really be able to unlock some fundamental aspects of fibroblast biology and how these cells interact with macrophages to play a role in the development of different diseases. I'm excited about getting to a point where the past couple of years come together. We have a lot to look forward to."
Why Professor Buechler is one of our People of Medicine by Design:
Professor Buechler is a
Medicine by Design New Investigator
who joined the University of Toronto in 2021. Visit his lab's website at https://buechlerlab.com.