Medicine by Design's team includes regenerative medicine leaders who provide leadership and governance; strategic advisors who advise on a range of topics, including our scientific priorities, translation and commercialization; and staff who support day-to-day operations.
On this page:
Michael Sefton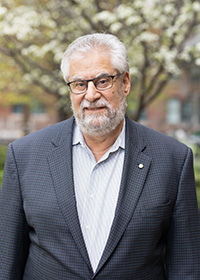 Michael Sefton, OC, FRSC, leads and provides strategic direction for Medicine by Design. He is a University Professor, the Michael E. Charles Professor of Chemical Engineering, and a faculty member in the Department of Chemical Engineering & Applied Chemistry and the Institute of Biomedical Engineering at the University of Toronto.
Professor Sefton holds degrees in chemical engineering from the University of Toronto (1971) and the Massachusetts Institute of Technology (1974), and has been at the University of Toronto since 1974. He has been active in the preparation of blood compatible materials through heparinization, the microencapsulation of mammalian cells in synthetic polymers and various strategies for vascularizing tissue constructs.
Professor Sefton has served as director of U of T's Institute of Biomedical Engineering and as president of the U.S. Society for Biomaterials. He has received numerous awards including the Founders Award of the U.S. Society for Biomaterials, the Killam Prize in Engineering of the Canada Council for the Arts, and the Acta Biomaterialia Gold Medal. He was elected an international member of the U.S. National Academy of Medicine in 2014 and received the Terumo Global Science Prize in 2016. In 2017, Professor Sefton was named an Officer of the Order of Canada, one of the country's highest civilian honours.
Professor Sefton's appointment as Medicine by Design's executive director began on July 1, 2017.
Allison Brown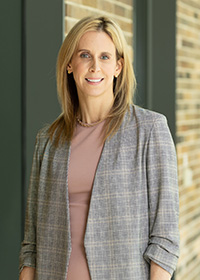 Allison has 20 years of experience at the intersection of research, commercialization and business development. Prior to joining Medicine by Design in April 2019, she served as Director, Corporate and Foundation Partnerships, at the Faculty of Applied Science & Engineering at the University of Toronto, where she forged partnerships in the public and private sectors to tackle new research challenges. She has also worked in leadership roles at the Centre for Commercialization of Regenerative Medicine (CCRM), in management consulting and in the pharmaceutical industry. Allison holds PhD and BASc degrees in Chemical Engineering and Applied Chemistry from U of T.
Executive Leadership Team
Medicine by Design's Executive Leadership Team includes leading experts in regenerative medicine at the University of Toronto and its affiliated hospitals.
Gary Bader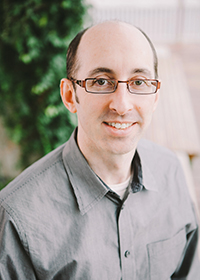 Gary D. Bader has been a member of the Donnelly Centre for Cellular and Biomolecular Research at the University of Toronto since 2006. Cross-appointed in the Department of Molecular Genetics in the Faculty of Medicine and in the Department of Computer Science, Professor Bader works primarily in the area of biological network analysis to better understand cellular processes in normal and diseased tissues. With a background in biochemistry and computer science, Professor Bader completed a post-doctoral fellowship at the Memorial Sloan-Kettering Cancer Center in New York after earning his PhD in biochemistry from the University of Toronto in 2002 and his undergraduate degree in 1997 at McGill University. Professor Bader has published more than 150 peer-reviewed articles, which have garnered more than 28,000 citations.
Shiri Breznitz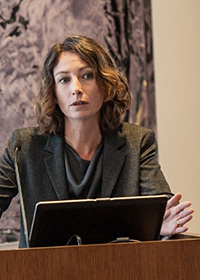 Shiri M. Breznitz, an economic geographer, specializes in innovation, technology commercialization, and regional economic development. Shiri is a professor and Director of Research at Munk School of Global Affairs & Public Policy, an editor in Progress in Economic Geography, and a member of the Executive Leadership Team at Medicine By Design. In addition, she is a board member of Monash University's Better Governance and Policy research focus area and the Journal of Technology Transfer. Her research is at the critical intersection of theory and policy to fit the new realities of globalization: Professor Breznitz's work has informed policymaking at the local, national, and international levels. She has advised on the role of universities in the larger story of innovation, on the economic impact of biotechnology and Intellectual Property, and on the role of clusters in driving innovation. Her current projects include a study on the economic impact of entrepreneurship education, the impact of gender and work experience on entrepreneurship, and a study on the Greater Toronto ecosystem of innovation.
Professor Breznitz's book, "The Fountain of Knowledge" with Stanford University Press (July 2014), analyzes universities' relationships with government and industry, focusing on the biotechnology industry as a case study. She has also co-edited the book, "University Technology Transfer: The Globalization of Academic Innovation," with Routledge Press (September 2015). Professor Breznitz was a member of the Ontario Expert Panel on Intellectual Property, a member of the Ontario IP implementation panel and, in 2018, was a Co-PI on the University of Toronto Alumni Impact Survey.
Elmar Jaeckel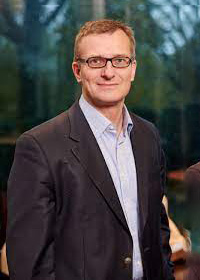 Dr. Elmar Jaeckel is a trained gastroenterologist/hepatologist as well as endocrinologist/diabetologist and transplantation specialist. He is Medical Director of the Liver Transplant Program at the Transplant Centre, University Health Network. Dr. Jaeckel studied medicine at University of Hamburg, Yale University New Haven, University of California San Diego, University of Edinburgh and University of Sydney. He completed his medical training at the Hannover Medical School (MHH). He studied medical economics at the University of applied sciences in Hannover and received a bachelor as Medical Hospital Manager. Dr. Jaeckel spent a four years postdoctoral research fellowship with Harald von Boehmer at the Harvard Medical School/Joslin Diabetes Center, Boston working on central and peripheral tolerance mechanisms in type 1 diabetes. Since 2003, he has been leading the research group on immune tolerance and metabolic inflammation at the MHH. The group is focusing to establish tissue-specific tolerance in autoimmunity, transplantation and metabolic inflammation. Since 2008 he is attending for gastroenterology, hepatology, endocrinology and diabetology at Hannover Medical School.
Dr. Jaeckel's working group Immune Tolerance aims in establishing immune tolerance in type 1 diabetes and after biological beta cell replacement. For this purpose, he is developing new cell and gene therapy approaches. He is involved in pursuing islet xenotransplantation in Germany and to facilitate tolerance to stem cell derived beta cells. One major research focus is the change of specificity of regulatory T cells for beta cells by the use of chimeric antigen-receptors (CARs). In addition, he aims in local control of immune responses in metabolic inflammation in NASH patients.
He was co-chairing the collaborative research center transplantation for 12 years (CRC738), the CRC on xenotransplantation (CRC TR127) funded by the German Research Foundation and the Integrated Research Center Transplantation (IFB-Tx) funded by Federal Ministry for research and education. Besides this he received funding from the German Research Foundation, Ministry of Health, European Community, Helmsley Foundation, Juvenile Diabetes Research Foundation.
Dr. Jaeckel published numerous articles on viral hepatitis, autoimmune liver disease, autoimmune diabetes and islet transplantation tolerance. He developed tissue-specific regulatory T cell therapies for local tolerance induction, which are currently being tested in clinical trials. He has numerous patents on tolerance inducing therapies and is co-founder of Quell Therapeutics aiming to develop clinical therapies for tolerance induction with regulatory T cells.
Nicole Kaniki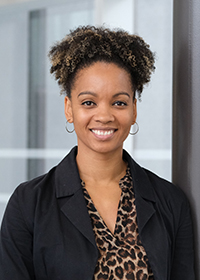 Nicole Kaniki is the University of Toronto's first Director of Equity, Diversity and Inclusion in Research and Innovation. In this role, Dr. Kaniki will examine, advocate and advance EDI in all aspects of U of T research, innovation and entrepreneurship. Dr. Kaniki joined U of T from Western University, where she worked as a member of Western's Anti-Racism Working Group and, later, adviser on anti-racism to President Alan Shepard. In her tenure at Western, Dr. Kaniki spearheaded several initiatives that fostered equity, diversity and inclusion. She helped create the office of the associate vice-president of equity, diversity and inclusion, and lay the groundwork for an equity advisory council of experts in EDI and research to provide support and accountability. Dr. Kaniki holds a master's degree in kinesiology and PhD in research methodology and quantitative methods. More recently Dr. Kaniki completed  a master's degree in women's studies and feminist research, frameworks she uses in her EDI work.
Michael Laflamme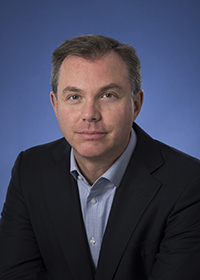 Dr. Michael Laflamme is the Robert McEwen Chair in Cardiac Regenerative Medicine at University Health Network (UHN), Senior Scientist in the McEwen Stem Cell Institute, Staff Pathologist in the UHN Laboratory Medicine Program and Associate Professor of Laboratory Medicine and Pathobiology at the University of Toronto. After obtaining an undergraduate degree in Physics at Georgetown University, Dr. Laflamme completed the Medical Scientist (MD/PhD) Training Program at Emory University, where he studied the regulation of calcium homeostasis by beta-adrenergic signaling in adult ventricular cardiomyocytes.  After residency in Anatomic Pathology and subspecialty training in cardiovascular pathology at the University of Washington Medical Center, he completed a postdoctoral fellowship investigating the role of exogenous and endogenous stem cells in myocardial repair. His independent research career has been largely focused on the development of cell therapies based on human pluripotent stem cells (hPSCs), and his laboratory has made a number of important contributions in this area  including 1) widely-used protocols to guide the differentiation of hPSCs into cardiomyocytes, 2) the first proof-of-concept study showing that the transplantation of hPSC-derived cardiomyocytes can "remuscularize" scar tissue and improve left ventricular contractile function in rodent myocardial infarction models, and 3) the first direct demonstration that hPSC-derived cardiomyocyte grafts can electrically couple with host myocardium following transplantation in injured hearts.  Dr. Laflamme has been the recipient of honors including the Society for Cardiovascular Pathology Young Investigator Award, the Perkins Coie Award for Discovery, the ASGCT Outstanding New Investigator Award, and the UHN Co-Inventor of the Year. He is a founding investigator of BlueRock Therapeutics. He is also a board-certified physician in Anatomic Pathology and practices diagnostic cardiovascular pathology.
Alison McGuigan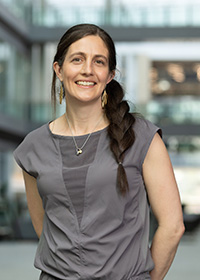 Alison McGuigan is a professor in the Department of Chemical Engineering and Applied Chemistry and at the Institute for Biomaterials and Biomedical Engineering at the University of Toronto. She obtained her undergraduate degree in materials science and engineering from University of Oxford, her PhD in Chemical Engineering from University of Toronto, and then completed post doctoral fellowships at Harvard University and Stanford School of Medicine. Professor McGuigan's research is focused on engineering model tissue platforms for understanding the biology of tissue development, disease and regeneration. In recognition of her research, Professor McGuigan has received numerous awards such as a Canadian Rhodes Foundation Scholarship, the Tissue Engineering and Regenerative Medicine International Young Investigator award, and the Hatch Innovation Award. In 2018, she was appointed to the Royal Society of Canada's College of New Scholars, Artists and Scientists.
Governance
Medicine by Design's governance model provides oversight by the University of Toronto and its affiliated hospitals. It also promotes interaction with other leading centres in regenerative medicine, facilitates peer review and maintains a transparent process for mobilizing resources rapidly, efficiently and effectively.
Executive Committee
Medicine by Design is governed by an Executive Committee made up of senior academic and research leaders from U of T and affiliated hospitals. It meets twice a year and is responsible for providing strategic direction to the executive director and Medicine by Design team, financial oversight of the initiative and institutional approval of award funding decisions. Members of the Executive Committee include U of T's vice-president, research & innovation, and strategic initiatives; the deans of partner faculties; and the vice-presidents of research of partner hospitals.
Scientific Advisory Board
James Collins
Professor, Institute for Medical Engineering and Science and Department of Biological Engineering, Massachusetts Institute of Technology
Darrell Irvine
Professor, Biological Engineering, Massachusetts Institute of Technology
Marlene Rabinovitch
Dwight and Vera Dunlevie Professor of Pediatric Cardiology, Stanford University School of Medicine
Lee Rubin
Professor, Stem Cell and Regenerative Biology, Harvard University
Michael Rudnicki
Senior Scientist and Director, Regenerative Medicine, Ottawa Hospital Research Institute
Hans-Willem Snoeck
Professor, Medicine and Microbiology & Immunology, Columbia University College of Physicians and Surgeons
Gordana Vunjak-Novakovic
Professor, Biomedical Engineering and Medicine, Columbia University
Gordon Keller
Senior Scientist, Princess Margaret Cancer Centre
Director, Research Institute, McEwen Stem Cell Institute
Janet Rossant
Chief of Research Emeritus and Senior Scientist at The Hospital for Sick Children
President and Scientific Director, Gairdner Foundation
Thomas Waddell
Thoracic Surgeon, Ajmera Transplant Centre, University Health Network, and Professor, Thoracic Surgery, University of Toronto
Before joining Medicine by Design in January 2020, Stephanie worked at STEMCELL Technologies as a program manager, primary cells, within the business operations group. In this role, she led cross-functional project teams to help manage all aspects of the product line. She completed her Master of Applied Science degree at the Institute of Biomedical Engineering at the University of Toronto, focusing on the development of a novel device for high-throughput screening of cell contraction. She also holds a Bachelor of Medical Science from Western University.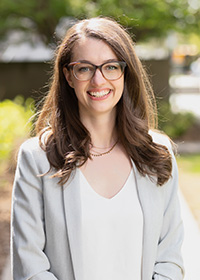 Associate Director, Administration
Sonam joined Medicine by Design in October 2021. Sonam built her expertise in clinical translation working at Sunnybrook's ALS Clinic, which is led by Dr. Lorne Zinman and is the largest ALS clinic in Canada. She fulfilled the role of both clinical coordinator and project manager and worked on grant applications, protocol writing and development along with coordinating industry- and investigator-initiated trials. Sonam obtained her BSc at the University of Guelph in biomedical sciences and her PhD at the University of Toronto, working in Medicine by Design-funded investigator Isabelle Aubert's and Kullervo Hynynen's lab at Sunnybrook Research Institute.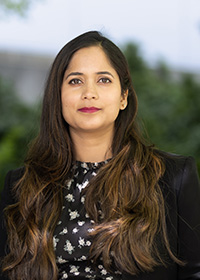 Scientific Manager
(On leave)
Prior to joining Medicine by Design, Angela was a Research Administrator for the Precision Medicine Initiative (PRiME) at the University of Toronto, supporting their scientific and training programs in aligning research efforts across multiple faculties towards unmet needs in drug discovery and disease biology. She also previously worked as an independent consultant for Turnstone Biologics, assisting with technical and regulatory writing, as well as conducting literature reviews and analyzing data to support pre-clinical research teams. Angela has been active in engaging the public and other stakeholders in science, serving as the Managing Editor of the Royal Canadian Institute of Science and previously co-chairing the Program Committee for the Canadian Science Policy Centre. Angela holds a PhD in Immunology and an Honours BSc both from the University of Toronto.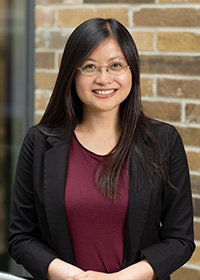 Rosalie joined Medicine by Design in July 2020. Prior to that she worked with Creative Destruction Lab as an events coordinator and Rotman School of Management, MBA admissions, as an events and marketing lead. She has a BA in languages and philosophy and a post-graduate certificate in sports and event marketing.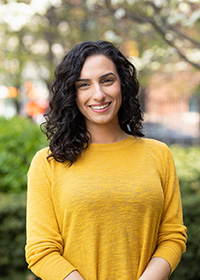 Events & Administrative Coordinator
Julie joined Medicine by Design in February 2020. She previously worked for more than a decade with one of Canada's largest health charities, gaining experience in fundraising, branding, marketing and implementing organizational communications strategy across large teams. She has an honors BA in cultural studies from York University and a post-graduate bachelors degree in journalism from the University of King's College, as well as a certificate in editing from Simon Fraser University and a graduate certificate in creative writing from Humber College.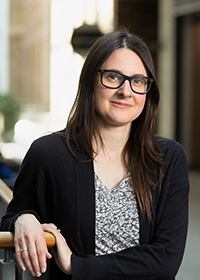 Marketing & Communications Officer

Business Officer
(On leave)
Entrepreneur-in-Residence Program
The Entrepreneur-in-Residence (EIR) Program supports Medicine by Design's commitment to accelerating its discoveries towards new therapies, products and scalable companies. At full scale, the program will consist of a cadre of highly experienced individuals with a proven track record in starting and growing new science-based ventures based on Medicine by Design-funded research discoveries.
The EIR program provides Medicine by Design's research teams with critical business planning, entrepreneurial perspective, early-stage product and venture development expertise and connections to the venture capital community as a resource for enabling productization and venture creation.
Andrew Haller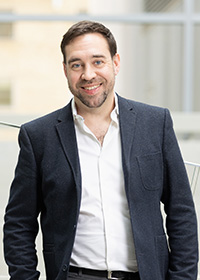 Entrepreneur-in-Residence
Andrew Haller is an early-stage entrepreneur. He currently consults for biotechnology, regenerative medicine and digital health companies focusing on business development strategy.
Dr. Haller received his PhD in molecular pharmacology from the Roswell Park Comprehensive Cancer Center and then did a three-year post-doctoral fellowship at the Princess Margaret Cancer Center, studying cancer stem cells, hypoxia, and metabolism. He got involved in entrepreneurial activities during his post-doctoral fellowship, and the experience and connections he gained from those ventures led to his first role outside of academia. He left the lab to join the health innovation ecosystem, first at TOHealth! and later at Clinical Trials Ontario. Both roles allowed him to build an extensive network in the startup and Canadian clinical research worlds. He has continued walking the entrepreneurial path working on an oncology drug development startup inspired by his post-doctoral research.
Dr. Haller's combined experience in the industry, clinical and scientific worlds has led to an appointment in the Department of Pharmacology and Toxicology in the Temerty Faculty of Medicine at the University of Toronto. He guest lectures on topics like bioinnovation and entrepreneurship, and he also mentors companies through the Health Innovation Hub, an on-campus incubator.
As Medicine by Design's early stage entrepreneur-in-residence, Dr. Haller will help get cutting edge research ready for investment and inspire the next generation of scientist entrepreneurs.
Thomas Digby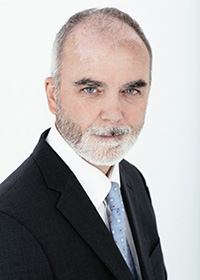 Thomas Digby is a US and Canadian intellectual property (IP) and transaction attorney. He works in the fields of small molecule NCEs, biologics, generics and biosimilars, research-tools and therapeutic targets, biofuels, and biomass-derived chemicals. With over 22 years in practice, he has advised a wide range of clients, from seed-stage, VC-funded startups through to global pharma with Novartis. While at Novartis, he led a specialized IP Asset Management team focused on enforcement of IP rights, with the goal of revenue generation. Enforcement proceeds during 2012-2015 were over $650 million.
He has specific expertise in license and M&A due diligence, negotiation, and dispute resolution. He also has deep experience in complex global IP issues relating to tax, transfer-pricing, supply-chain management, and compliance with international trade sanctions. Thomas holds a Doctor of Law degree from Dalhousie University.
Rafi Hofstein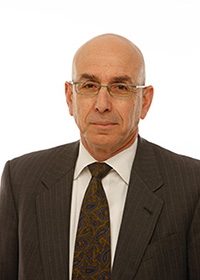 Raphael (Rafi) Hofstein joined MaRS Innovation (now TIAP-Toronto Innovation Acceleration Partners) as President and CEO in June 2009. Dr. Hofstein retired from that position in 2020 and since then functions as an independent Life-Science executive and consultant.
Dr. Hofstein received his Bachelor in chemistry and physics from the Hebrew Universirty, Jerusalem. His PhD is in Life Sciences and Chemistry received from the Weizmann Institute of Science in Rehovot, Israel.
Awards he received as post-doctoral trainee at the Harvard Medical School in Boston in the Departments of Biological Chemistry and Neurobiology include the Chaim Weizmann Postdoctoral Fellowship in 1980-82 the Hereditary Disease Foundation Fellowship in 1982-83,.
During the 1980s and 1990s, Dr. Hofstein assumed executive positions in Israel and the US with focus on early stage biotechnology product development including Ag-biotech, medical diagnostics and drug development. Among the various roles he served as VP Marketing at Ecogen (a PA subsidiary of Monsabnto).
In 1999 Dr. Hofstein founded Hadasit BioHolding (a holding company listed on the Tel-Aviv Stock Exchange) and served as its chairman since 2005. Other directorship roles include BiolineRx (NASDAQ), Scopus Biopharma (NASDAQ), Fibrocor (Toronto), Inteligex (Toronto), CTO (Toronto), CQDM (Montreal), Exactis (Montreal), Excite (International).
Dr. Hofstein served as chairman of BIOMED, Israel's annual biomedical conference, from 2005 to 2007 and in addition was the co-founder and board member of ILSI, the Israeli Life Science Industry Organization, and the co-founder and board member of ITTN, Israel's Tech Transfer Network.
Dr. Hofstein is currently member of the board of directors and the executive committee of Life Science Ontario.