International Workshop on Translating and Commercializing Regenerative Medicine
How do you move innovative regenerative medicine discoveries out of the lab efficiently and effectively so patients benefit sooner?
The University of Toronto's Medicine by Design initiative, in partnership with CCRM, the Rotman School of Management and Stem Cell Network, hosts an intensive two-week workshop each summer for high-performing PhD candidates and post-doctoral fellows from around the world to advance their understanding of how to translate and commercialize regenerative medicine research. The workshop takes place in Toronto, Canada, where stem cells were first discovered in the 1960s and a leading regenerative medicine ecosystem has developed.
Summer by Design brings together trainees from selected international and Canadian regenerative medicine institutes to learn from experts in clinical translation and commercialization, explore the city's dynamic life sciences hub, and make connections with emerging researchers from around the world.
Expand your skills, your network and your perspective this summer. Join us at Summer by Design.
Admission is competitive. All short-listed candidates will be interviewed by a selection committee (by video-conference or in person). Participants must commit to participating fully in the program, which typically runs from 8:30 a.m. to 5 p.m. on week days. 
Important Dates
February 21, 2020: Application deadline
Weeks of February 24 & March 3, 2020: Short-listed candidates will be interviewed
March 6, 2020: Candidates will be notified of status of applications
March 18, 2020: Deadline for accepted candidates to confirm participation
Summer by Design in the News
In its first two years, Summer by Design has welcomed participants from the University of Toronto and partner institutions around the world, including the University of Cambridge, Hannover Medical School, Karolinska Institute, Kyoto University, National University of Singapore and Queensland University of Technology.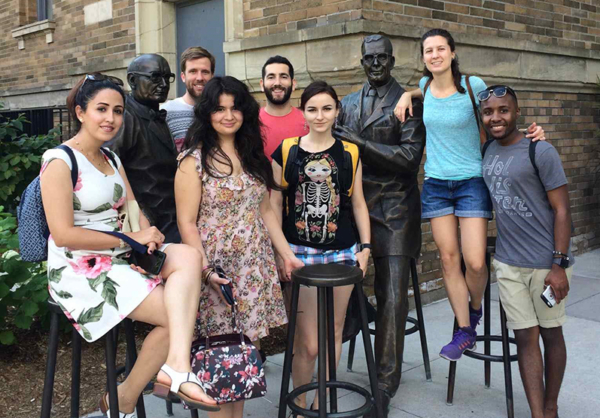 About Medicine by Design
Medicine by Design is a regenerative medicine initiative at the University of Toronto that undertakes transformational research to improve health outcomes and create value.
Modelled after a design studio, Medicine by Design brings together 130 scientists, engineers and clinicians from across the University of Toronto and its world-class affiliated hospitals to conceive, create and test strategies to address critical problems in regenerative medicine. Converging across disciplines, these researchers generate and use emerging methods such as genome editing, computational modelling and synthetic biology to deepen understanding of core biological concepts and devise new therapeutic approaches.
Building on decades of made-in-Toronto discoveries, Medicine by Design is developing new peaks of excellence and strengthening Canada as a global leader in regenerative medicine thanks to a $114-million investment from the Canada First Research Excellence Fund.
Founded in 1827, the University of Toronto has evolved into Canada's leading institution of learning, discovery and knowledge creation, and one of the world's top research-intensive universities.
Discover Toronto
With about 2.8 million people, Toronto is Canada's biggest city and the fourth-largest in North America. It is also one of most diverse, livable and safe urban centres in the world. Learn more at Tourism Toronto
Photos by Neil Ta, Johnny Guatto and Jackie Denholm