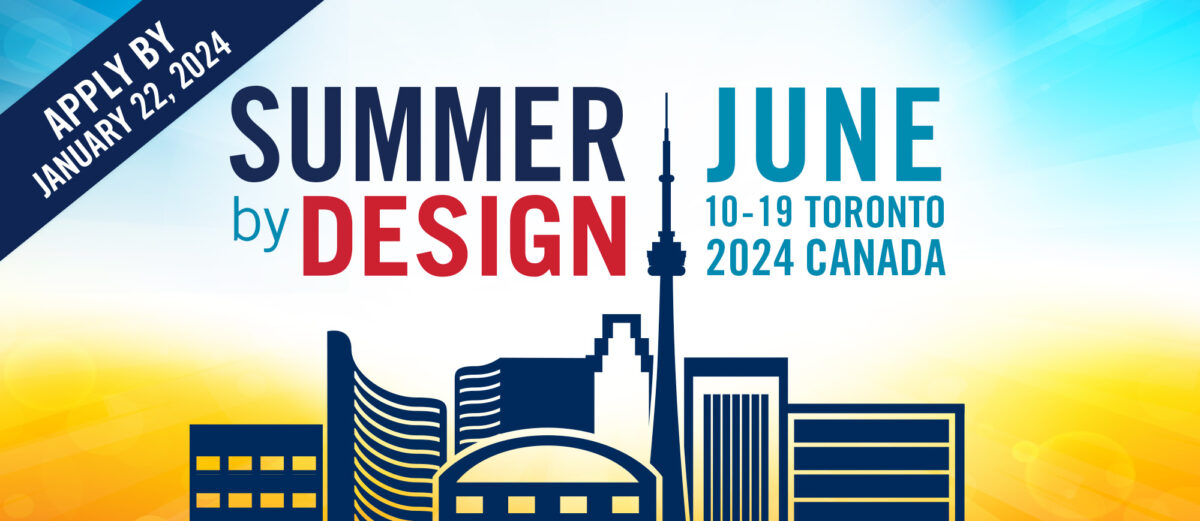 How do you move innovative discoveries out of the lab efficiently and effectively so patients benefit sooner? What are the steps involved in translating and commercializing regenerative medicine discoveries? What career opportunities exist beyond academia?
Apply for Summer by Design, an intensive program for PhD students and post-doctoral fellows from Canadian and international universities, which will run from June 10 to 19, 2024, at the University of Toronto.
Summer by Design is hosted by the University of Toronto's Medicine by Design initiative, in partnership with CCRM, the Rotman School of Management and Stem Cell Network
Overview
This eight-day program will feature expert-led, interactive sessions including lectures, group work and case studies. Participants will:
Learn from experts across various aspects of the technology translation continuum and be introduced to important topics including:

Conducting technology assessments (market opportunity, competitive landscaping)

Product conceptualization
Pivotal experiments
Technology strategy and intellectual property (IP)
Scale-up and biomanufacturing
Regulatory affairs and reimbursement
Marketing
Strategic communications and pitching including one-on-one coaching to develop presentation and pitch skills.

Explore Toronto's dynamic life sciences hub by meeting with clinical and industry leaders in the field of regenerative medicine
Make connections with other Summer by Design participants to strengthen their networks of international peers
Program information
Selection criteria
Summer by Design participants are selected in a competitive process. All short-listed candidates will have a brief interview (in-person for local candidates and virtually for candidates located outside of Toronto). Applicants will be evaluated based on the following selection criteria:
Applicants must be PhD candidates or post-doctoral fellows in engineering, life science or medicine whose research is focused on regenerative medicine.
Applicants should have a strong interest and/or experience in clinical translation or commercialization.
Applicants demonstrate enthusiasm for working as part a team or group, an interest in international collaboration, and enthusiasm for sharing their expertise, research and insights from their home institution with the larger group.
Notes:
Applicants must commit to participating fully in Summer by Design. Sessions typically run from 8:30 a.m. to 5 p.m. on weekdays from June 10-19, 2023
All applicants must provide a letter from their supervisor indicating they support the applicant's participation in Summer by Design.
Dates
Costs
Medicine by Design will pay for instructional costs and, for participants from outside the Toronto area, accommodation in a university residence and breakfast each day.
Participants will be responsible for
Booking travel and paying for travel costs to and from Toronto.
During Summer by Design, participants will also be responsible for some lunches and most dinners, incidental expenses and health insurance.
Participants will also be responsible for securing appropriate travel documents to enter Canada, where applicable.
Applications
From 2017-2019 and in 2023, Summer by Design welcomed participants from the University of Toronto and partner institutions and institutions from. around the world, including the University of Cambridge, University of Loughborough, York Biomedical Research Institute, Weill Cornell Medicine, Technical University of Munich, The Rockefeller University, Lund University, Monash University, Hannover Medical School, Karolinska Institute, Kyoto University, National University of Singapore, Queensland University of Technology and more.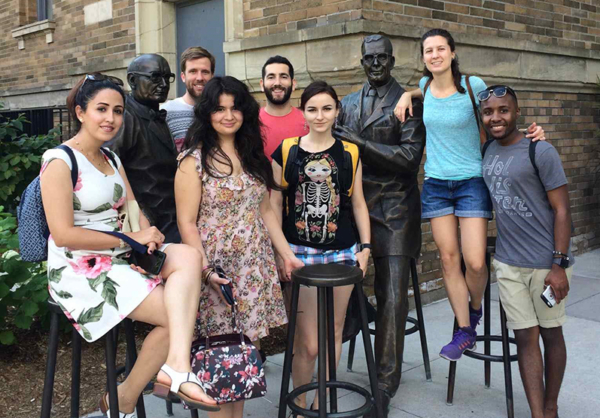 Testimonials
"Summer by Design presented the perfect platform to build on my interests in translational research and commercialization in regenerative medicine. Having been away from Toronto for almost six years, I was particularly impressed by the increasing focus on those areas in recent years through initiatives like Medicine by Design and CCRM."

–

Aileen Gracias, Karolinska Institute, Sweden
"My perspectives on the importance of collaboration have been reinforced by my experience at Summer by Design. The international nature of Summer by Design has enabled me to make some great contacts with emerging researchers around the world, which will be instrumental to furthering both the clinical and research aspects of my career."

–

Hsern Ern Tan, University of Western Australia
About Medicine by Design and Toronto
Medicine by Design is a strategic hub where scientists, engineers and clinicians converge to conceive and translate regenerative medicine approaches to transforming human health. Our community of researchers is from the University of Toronto and its affiliated hospitals, and we also work with the biotechnology industry, government and not-for-profit partners to integrate discovery and translation with biomanufacturing and clinical implementation. Read more about Medicine by Design.
With about 2.9 million people, Toronto is Canada's biggest city and the fourth-largest in North America. It is also one of most diverse, livable and safe urban centres in the world. Learn more at Tourism Toronto.
Photos by Neil Ta, Johnny Guatto and Jackie Denholm