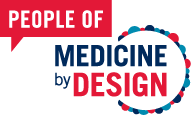 Meet the world-class researchers who are building the future of regenerative medicine. These are the people of Medicine by Design.
"In my research, I'm working on a novel way to fuse different types of stem cells, which could provide a faster and less expensive method of engineering new cells for therapies. I'm excited to be reaching the final stages of my PhD, and to be able to share everything I have done in the last five years with my peers.   
I hope that my work will one day be used across a wide range of applications. I hope to inspire researchers to think outside the box. With all the complexities and unknowns of degenerative diseases, it's important for us to explore new ideas. 
My dad, who is a researcher as well, was one of my inspirations to get into academic research. Seeing the impact of his research on the field of early child development and maternal health inspired me to pursue a career in research. It was exciting to see his lab uncover new facets of disease that translated into better care for patients. I felt that a career in research offered a great balance of creative freedom and analytical problem solving.   
It has been challenging to lead a new direction of research in our lab through my thesis but I'm so grateful to my lab for their guidance and encouragement. In addition, there are maybe a handful of people working on similar cell fusion studies in the world. This can feel isolating but sharing my work at conferences and symposia have really helped me stay connected to the front lines of regenerative medicine. 
I'm excited about the momentum of regenerative medicine research. The emergence of new technologies has accelerated the development of strategies to treat disease.  
I'm most proud of the incredibly supportive and intelligent network of colleagues and friends I have built along the years as a graduate student. I have been involved with some great student-run initiatives at U of T and it's nice to feel like I've made my mark in my department. I feel that being involved with your community outside your own research is crucial to being well-rounded in your career.  
This year, I became co-chair of Medicine by Design's Healthy & inclusive Lab committee because, as progressive a field as regenerative medicine is, there are still institutional barriers that disadvantage underrepresented groups such as BIPOC and LGBTQ2S+ people. Initiatives like the Healthy & Inclusive Labs Committee that support EDI are crucial to understand these barriers as they relate to research and identify opportunities to break them. Diversity drives innovation by including alternate perspectives. By supporting EDI efforts and prioritizing equal opportunities, research communities can increase collaboration, impact and productivity. Healthcare accessibility is not equal in our communities and one aspect of this begins with lack of inclusion in research study design. It is important that funding agencies and publishing outlets prioritize this in their assessment of research studies. 
Professionally, I am motivated to get involved with the business aspect of regenerative medicine. As I learn more about the process of commercializing new regenerative medicine therapies, I find my interest in business growing. Following my degree, I hope to translate my knowledge to venture capital or consulting to help regenerative medicine companies grow. 
I am passionate about promoting professional development within my graduate community. I've worked with great peers to organize career panels that highlight careers in both academia and industry.  
My mission outside of the lab is to find the best oyster bar in Toronto. So far, Oyster Boy is winning."