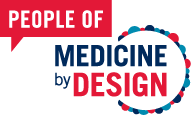 Meet the world-class researchers who are building the future of regenerative medicine. These are the people of Medicine by Design.
"When I was growing up in Dhaka, Bangladesh, I did well at school. I was especially good at science and math.
I was interested in health science, but I knew that I didn't want to be in patient care. However, I wanted to contribute to my community and beyond through science, and I think that's what brought me thousands of miles away to Toronto.
I had several incredible high school teachers who inspired me and in my grade 10 Cambridge International Examinations, I received the highest marks in Bangladesh in physics, chemistry and math. That was quite a life-changing experience. That deepened my interest in following my passion for life sciences, so I could contribute to healthcare.
During my undergraduate years at U of T, I considered a number of disciplines, such as evolutionary biology and plant biology. Eventually I found my sweet spot in medicinal chemistry and drug design. That interest probably goes back to what I experienced with my family and friends. We lost people to cancer and other devastating diseases. I saw a lack of innovative care and therapies. I saw the severe side effects some people close to me had to go through during chemotherapy and I thought I should try to do something to improve the current therapeutic landscape for these difficult diseases.
I took organic and medicinal chemistry courses with Professor Patrick Gunning at U of T Mississauga, which caught my interest. I joined Patrick's research group as an undergrad and have worked with him and the team ever since. I earned my PhD in medicinal chemistry in June 2022.
My work focuses on designing targeted therapeutics for the treatment of cancers, neuropathies and neurodegenerative disorders. Due to the lack of approved treatments, current standard of care still involves borrowing treatments used for other diseases. It's like putting a bandage on the disease rather than having treatments that address the root of the problem.
In our work in the Gunning lab and with HDAX Therapeutics, the spinoff company I co-founded, we're trying to understand the biology behind diseases and target the abnormal behavior that actually happens inside the cells. For example, we are using a patented mechanism to target the protein HDAC6, which is implicated in cancers and neurological disorders. We have unique drug candidates and have been able to show some proof of concept data in animal models. And we've collaborated with clinicians around the world to test our molecules in patient samples and unleash the true potential of our technology.
We are humbled to have been awarded $25,000 from Medicine by Design through the Building a Biotech Venture Pitch Competition. It was our first pitch competition, and it was an incredible opportunity to showcase our technology in front of other entrepreneurs and experts within this lively ecosystem. We formed the company shortly after the competition, and I think that recognition really prompted us to take our venture to the next stage and keep going. We're beyond thrilled to receive this recognition, which will help us advance our platform closer towards the clinics.
There are always challenges and a new challenge seems to arise every week, especially now that I am involved in both the science and the business. But one of the major challenges in the biotech space is the lack of diversity and the lack of female leaders and people of color. In academia, I think it's getting better. I feel quite comfortable and accepted as a member of the diverse U of T and GTA communities. But as I move more into the business sector, there is an evident lack of diversity as you move up the chain. This needs to be addressed.
Leaving Bangladesh was a decision I made at an early age because I wanted to be at the forefront of life science innovation. I was met with some resistance from family because I was the first to go so far from home and also the first in my immediate and extended family to pursue a PhD. But they still encouraged me. I miss my family every day.
I think I'm most proud of my ability to make unconventional and often scary decisions. Going for my doctorate at a young age felt risky and it feels even riskier now that I'm navigating entrepreneurship. I really find the business world exciting and my learning curve has been exponential. I don't regret my choices because I believe that these decisions will bring value to those around me and to the patients who are experiencing health challenges."

Why Dr. Nawar is one of our People of Medicine by Design:
As part of the
HDAX Therapeutics
team, Dr. Nawar participated in the 2021 Building a Biotech Venture pitch competition, where HDAX Therapeutics was awarded $25,000 in research funding for being the top pitch team. Dr. Nawar received her PhD in the lab of Patrick Gunning, a faculty member in the Department of Chemical & Physical Sciences at the University of Toronto Mississauga.