Medicine by Design is investing $600,000 in four emerging researchers at the University of Toronto (U of T) and its affiliated hospitals whose work could advance treatments for a wide range of diseases and conditions including cancer, Alzheimer's disease, autism and aneurysm.
The Post-Doctoral Fellowship Awards, which Medicine by Design grants annually through a competitive process, support post-doctoral fellows who have the potential to become leaders in regenerative medicine.
"Medicine by Design is proud to support these outstanding new researchers," says Michael Sefton, executive director of Medicine by Design, and a University Professor at the Institute of Biomedical Engineering and the Department of Chemical Engineering & Applied Chemistry at U of T. "Through the Post-Doctoral Fellowship Awards, we are committed to advancing their innovative and high-impact work and their career development, ensuring they are well positioned to lead regenerative medicine into the future."
Medicine by Design's Post-Doctoral Fellowship Awards have been offered annually since 2016. The 2020 awardees will receive $75,000 per year for two years. This year's recipients work in laboratories at U of T, University Health Network and The Hospital for Sick Children, and have specializations in cell biology, molecular biology, genetics, biophysics and mechanical and industrial engineering.
Learn more about this year's award recipients: Simon Latour, Ai Tian, Antigona Ulndreaj and Min Zhu.
Meet this year's award recipients
Simon Latour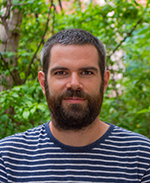 Hometown: St-Léger-des-Vignes, France
Degrees: BSc, Cell Biology, University of Clermont Auvergne. MSc and PhD, Cell Biology, Bordeaux University.
Supervisor: Alison McGuigan, Department of Chemical Engineering & Applied Chemistry and Institute of Biomedical Engineering, U of T.
Tell us about your post-doctoral research.
When an injury occurs, tissue architecture and composition are modified to facilitate tissue regeneration. Fibroblasts and macrophages, two types of cells, are the master regulators of the regeneration process. However, in some cases, the complex machinery allowing proper regeneration fails and leads to the development of fibrosis, which creates excess scar tissue and disrupts the normal vasculature, leading to a decrease in oxygen at the fibrosis site. We know that a decrease in oxygen influences cell behaviour in several contexts, but in the context of fibrosis, the role of oxygen is poorly understood. Therefore, my work will focus on investigating the impact of oxygen on macrophage/fibroblast interactions during fibrosis. This research could have an impact on fibrotic disease including pancreatitis and pancreatic cancer.
Why did you choose to do your post-doc in Toronto?
Toronto has an amazing reputation for research, especially in the field of tissue engineering and regenerative medicine. Being in such an environment allows you to be creative. I'm glad that I crossed the ocean to join the McGuigan lab, where I can benefit from strong mentorship by Professor McGuigan and where I can work with all the amazing McGuigan lab members.
What do you plan to do after your post-doc?
After my post-doc, I would like to continue transdisciplinary research either in academia or in a private company. In any case, in my next position I would like to still be able do some experiments as I think it is crucial to maintain the contact with the bench for any position in research.
Ai Tian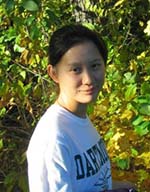 Hometown: Shanghai, China
Degrees: BSc, Biology, Fudan University. PhD, Genetics, Dartmouth College.
Supervisor: Julien Muffat, The Hospital for Sick Children.
Tell us about your post-doctoral research.
Microglia are the specific immune cells in our brain that serve as safeguards of brain health by patrolling surroundings, maintaining homeostasis, or equilibrium, and responding to pathogens or injuries. Unlike other major brain cell types, microglia develop from early embryonic stages and migrate into the brain during development. Brain residence is crucial for microglial identity, and microglial presence is necessary for normal brain development. How these reciprocal influences are achieved remains obscure. In collaboration with Afrin Bhattacharya, a PhD student from Yun Li's lab, I am developing a novel platform to investigate the reciprocal effects of microglia brain integration on human microglial and brain development. This research might provide insight into devastating diseases such as Alzheimer's disease and autism.
Why did you choose to do your post-doc in Toronto?
Toronto is a world-famous hub of stem cell and translational research. I am honoured and grateful to be part of the Muffat lab at SickKids and the outstanding research communities here in Toronto.
What do you plan to do after your post-doc?
After my post-doc, I hope I can share with future students what I learned during my training, as well as the joy of making new discoveries.
Antigona Ulndreaj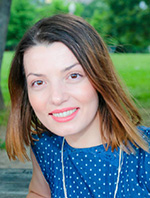 Hometown: Athens, Greece
Degrees: HBSc, Molecular Biology and Genetics, Democritus University of Thrace, Greece. PhD, Medical Science, University of Toronto.
Supervisor: Clinton Robbins, Toronto General Hospital Research Institute, Peter Munk Cardiac Centre, University Health Network
Tell us about your post-doctoral research.
My post-doctoral research is looking at the therapeutic role of specific macrophages — a type of white blood cell of the immune system that defends against infection — in a mouse model of abdominal aortic aneurysm (AAA). These macrophages are resident macrophages of the normal aorta and are important in maintaining arterial tone and collagen production, which are critical for the function and structural integrity of the aorta. My work is investigating whether, following treatment with these specific macrophages, we can slow progression of AAA and reduce death resulting from AAA.
Why did you choose to do your post-doc in Toronto?
Living in a city where I can pursue cutting-edge research and be part of a multicultural society is very important to me. I particularly love the collaborative research environment and the proximity of some of the largest research institutes in the downtown core of the city. This has allowed me to tap into the expertise of world-leading researchers and their laboratories all within walking distance.
What do you plan to do after your post-doc?
My ambition is to discover therapies for cardiovascular disease by enhancing pathways of endogenous repair and regeneration, in an organ-targeted fashion.
Min Zhu
Hometown: Nantong, China
Degrees: BSc (Honours) in Power Engineering, Nanjing University of Aeronautics and Astronautics; PhD, Mechanical & Industrial Engineering, University of Toronto.
Supervisor: Sevan Hopyan, The Hospital for Sick Children, and Yu Sun, Mechanical & Industrial Engineering, U of T.
Tell us about your post-doctoral research.
Proper organ development and function requires appropriate physical shaping of embryonic tissue. My PhD research focused on the development of a new 3D magnetic device to perform tissue stiffness mapping on living mouse embryos. My post-doctoral studies continue this research by utilizing this technique to investigate the role of tissue stiffness during embryo development. Additionally, we will develop a non-invasive method to perform tissue stiffness mapping. Tissue stiffness is a key physical parameter that controls the shape of organs and the progression of diseases such as cancer and chronic inflammation. This project could advance our understanding on the stiffness-related disease progression and therefore contribute to regenerative medicine by facilitating the discoveries of therapeutic targets.
Why did you choose to do your post-doc in Toronto?
I started my PhD study with a pure engineering background. The close collaborations among engineers, physicists and biologists in Toronto universities and research institutes has led me into the fascinating biophysics field. In Toronto, one can easily find the state-of-the-art equipment as well as high-calibre experts from different fields, which facilitates new discoveries.
What do you plan to do after your post-doc?
After my post-doc, I look forward to opening my own lab where new tools can be developed to decode the biophysical regulation of tissue morphogenesis. In addition to basic science, I also look forward to utilizing the tools that we generated in clinical research.
About Medicine by Design 
Medicine by Design builds on decades of made-in-Canada excellence in regenerative medicine. Regenerative medicine uses stem cells to replace diseased tissues and organs, creating therapies in which cells are the biological product. It can also mean triggering stem cells that are already present in the human body to repair damaged tissues or to modulate immune responses. Increasingly, regenerative medicine researchers are using a stem cell lens to identify critical interactions or defects that prepare the ground for disease, paving the way for new approaches to preventing disease before it starts. 
Medicine by Design is made possible thanks in part to a $114-million grant from the Canada First Research Excellence Fund.