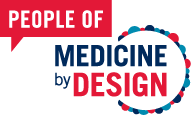 Meet the world-class researchers who are building the future of regenerative medicine. These are the people of Medicine by Design.
"I've spent the past five years conducting research as a senior post-doctoral fellow in Maria Cristina Nostro's lab at the McEwen Stem Cell Institute. Our lab's work focuses on using human pluripotent stem cells as a source of insulin-producing cells for people living with type 1 diabetes.
My research specifically centers on the role of immune cells during the development of the pancreas, since type 1 diabetes is caused by autoimmunity and is often diagnosed during early childhood. I have two big questions for my project: how do the immune system cells interact with the developing endocrine cells? And does that sometimes result in type 1 diabetes later in children?
Thanks to the use of human pluripotent stem cells, we are in the extraordinary position to be able to study these early developmental stages in the lab and effectively test our hypothesis. Using this platform, I hope to understand how the immune cells impact the development of the pancreas. If we can understand this, we could more precisely predict the risk of an infant developing type 1 diabetes. This can then instruct us on how to manipulate the immune system and delay, or even stop, the onset of type 1 diabetes.
Personally, I had always envisioned a career in science since my childhood growing up in Florence, Italy. I was fortunate enough to have mentors who were very inspiring and encouraged me throughout my career development with countless hours of training and discussion. Importantly, my mentors allowed me to take the time to try out different techniques and learn how to question my findings when the results weren't as expected, which is the best way to learn in the lab. Sometimes those "mistakes" turn out to be the thing that you were looking for.
The questions that I encounter every day with my project provide me with exciting challenges, and I always look forward to testing new ideas. You get the chance to develop theories and then find ways for those theories to work. It's not just about me designing or thinking, "Oh, I wonder if this would work?" No, I have to prove it.
This is a great time to be in regenerative medicine, especially for researchers who, like myself, are focusing on finding a treatment for type 1 diabetes through stem cell-based research. I truly believe we're on the brink of understanding our science in a way that will enable us to really move forward and help people living with type 1 diabetes.
Collaboration helps us to progress. I have been lucky to be involved with a program where Medicine by Design scientists and engineers interact with transplant surgeons at the Ajmera Transplant Centre at UHN. It's a great idea to bring together scientists, engineers, and physicians because we can really benefit from each other's expertise.
I'm excited to continue my career in science and am working towards becoming an independent researcher at an academic level or with an industry partner. This is just the tip of the iceberg and there's so much more to explore in what we're doing. In this career, it's important to take down-time away from your work. When I was a kid, I was constantly performing classical ballet. I still love this art form and attend as many ballet and theatre performances as I can. I also love fashion; if I wasn't a scientist, I'd be pursuing a career as a fashion designer. My partner and I love nature and hiking, and we're always tending to our garden when spring begins."
Why Dr. Migliorini is one of our People of Medicine by Design:
Dr. Migliorini is a member of Maria Cristina Nostro's lab, which is part of Medicine by Design team project focused on enabling long-lasting cell therapy for diabetes without injection by using strategies such as
cell cloaking
and
immunoengineering
. Dr. Migliorini also helps facilitate Regenmed in the Clinic, a partnership between Medicine by Design and the Ajmera Transplant Centre that aims to increase linkages between clinicians, scientists and engineers.