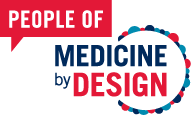 Meet the world-class researchers who are building the future of regenerative medicine. These are the people of Medicine by Design.
"I'm a computational biologist. That means I'm focused on anything to do with data as it relates to biology. My field, computational biology, is also known as bioinformatics.
My lab is especially interested in what's called single cell data. That means gathering all the information about the RNA of a cell to explore, say, a form of cancer. We've benefited a lot from an important surge forward in what our technology can do in the past five to 10 years. So now we can generate huge atlases of cellular information.
Our specific focus is to understand how the information stored in the genome is used to build organisms. We use gene expression data from single cells, taken from various organs and species, to build maps of gene function that explain how differences arise.
For the most part, we're using data to find sets of genes that are doing things together. Those sets of genes might define novel cell types, and those cell types might be changing or be similar between species to try to understand how traits evolve.
One of our projects involves identifying all the cell types in the human brain. For this, we're involved with the Brain Research through Advancing Innovative Neurotechnologies (BRAIN) Initiative, which is funded by National Institutes of Health in the U.S.
By building up these cell atlases across healthy brains to serve as a reference, we're now at a point where we can apply this knowledge to try to understand brain disorders. I'm looking forward to establishing collaborations with the Centre for Addiction and Mental Health to take this research further.
I'm not really sure if there was one moment when science struck me as a passion or my future. My parents certainly influenced me, as my father was a mathematics professor at Toronto Metropolitan University and my mother had her doctorate in early child development and was a school principal. Their love of education spoke to me. I liked science in school, and I really liked math. I read a lot of books about evolutionary biology. The Ant and the Peacock by Helena Cronin meant a lot to me. It's a lovely piece on Darwin's work.
I received all my degrees from U of T – my BSc in biophysics and then my master's and doctorate in neuroscience. I did my post-doc work for five years at the University of British Columbia and was a faculty member and researcher at Cold Spring Harbor Laboratory on Long Island, NY for 10 years. Through all of these years, I've benefited from the guidance of a few people as mentors, most notably Dr. Frances Skinner, a physiology professor at U of T, who was my PhD supervisor and Dr. Paul Pavlidis, a professor of psychiatry at UBC. I needed a lot of handholding as I was developing my career and their support was invaluable. Paul remains a collaborator with me today.
I work with researchers across many medical and scientific disciplines. One of the benefits of that is I have had a mosaic of mentors. I've been able to pick up excellent examples from quite a range of scientists on how they run their labs and how they interact with their students. That learning process never ends. A few weeks ago, I was in a meeting and admired the way a colleague was working with his trainees in particular ways I hadn't thought of. And it's been like this since grad school – I've adapted examples and skills I've seen in others to assemble into my own model of working.
I'm thrilled to be back in Toronto, my hometown, and in Ontario, which has such a beautiful natural environment. I'm especially glad to be at U of T. This is a fantastic environment for a computational biologist. My work depends on collaboration. U of T's scientific community, including all the hospitals, is deeply collaborative and, given the breadth of the community, if you're interested in a certain topic, there's always someone at U of T who works on it. And this applies to Medicine by Design, too, which brings together people doing important work in huge variety of areas.
I didn't become a researcher with a great deal of deliberate intent. I followed what interested me and I consider myself lucky for the career I have. If I wasn't doing this, I would probably still be in a position focused on data, maybe as a computer programmer, but I know I wouldn't be as happy as I am as a scientist."