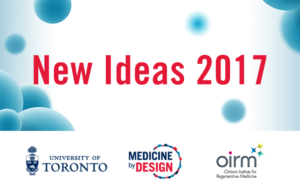 Twelve targeted projects and two post-doctoral fellowships that are expanding the frontiers of stem cell research will share $1.2 million in funding thanks to programs supported jointly by the University of Toronto's Medicine by Design initiative and the Ontario Institute for Regenerative Medicine (OIRM).
The 12 projects, which were selected for New Ideas grants through a competitive, peer-reviewed process, will develop new research insights and technologies that could eventually improve therapies for a range of conditions such as autism spectrum disorder, Duchenne muscular dystrophy, osteoporosis, and lung disease. Harnessing the promise of regenerative medicine to treat these conditions could significantly improve the quality of life of patients and reduce health-care costs.
The partnership between Medicine by Design and OIRM enables the following projects, each receiving $75,000 for one year:
The impact of environmental pollutants on pancreas development, led by Dr. Jenny Bruin, Carleton University
A 3D model of muscle to study potential therapies for Duchenne muscular dystrophy, led by Dr. Penney Gilbert, University of Toronto
Tailoring donor lungs to control immune response before transplant, led by Dr. Stephen Juvet, University Health Network
Improving the creation of bile duct cells to model liver disease, led by Dr. Binita Kamath, SickKids Research Institute
A computational modelling platform to support imaging and tissue design, led by Dr. John Parkinson, SickKids Research Institute
Understanding radial glial cell response to neural injury at a single cell level, led by Dr. Bret Pearson, SickKids Research Institute
A therapeutic strategy for treating Duchenne muscular dystrophy, led by Dr. Michael Rudnicki, Ottawa Hospital Research Institute
Magnetic resonance imaging to assess stem cell treatments for lung disease, led by Dr. Giles Santyr, SickKids Research Institute
Autism spectrum disorder drug testing using human neurons, led by Dr. Karun Singh, McMaster University
Clinical investigation of cell therapy to treat age-related osteoporosis, led by Dr. William Stanford, University of Ottawa and the Ottawa Hospital
Making new blood vessels for life-threatening lung diseases in newborns, led by Dr. Bernard Thébaud, Ottawa Hospital Research Institute
New ways to stimulate the production of insulin-producing cells to treat diabetes, led by Dr. Michael Wheeler, University of Toronto
"Some of the most important advances in regenerative medicine, including the world's first identification of stem cells here in Ontario, could not have happened without a supportive and collaborative environment," said Dr. Duncan Stewart, OIRM's president and scientific director. "These exciting new projects demonstrate the excellence of research in this province and I'm very pleased that we are able to leverage a collaborative partnership with Medicine by Design to support research and bring us closer to our goal of seeing made-in-Ontario solutions to serious diseases."
"Medicine by Design is delighted to partner with OIRM to support these projects at a crucial early stage," said Peter Zandstra, executive director of Medicine by Design. "By fostering innovation and discovery across our communities, we are setting the stage to strengthen Toronto, Ontario and Canada as global leaders in regenerative medicine."
Today's announcement also includes two post-doctoral fellowship awards that provide support for promising new researchers to pursue a specific line of research in bioengineering, stem cells and/or regenerative medicine. The two fellowships have been awarded to Yiming Wang in the lab of Dr. Slava Epelman at University Health Network, who seeks to better understand the role of specialized cells in promoting heart regeneration after a heart attack, and Arturo Ortin-Martinez in the lab of Dr. Valerie Wallace at University Health Network, who will study strategies to improve retinal cell transplants for patients with vision impairments. This second award was also selected for co-funding by the Foundation Fighting Blindness, which will provide support over the award's three-year duration. Both Epelman and Wallace also hold appointments at U of T's Department of Laboratory Medicine & Pathobiology.
This is the second time Medicine by Design and OIRM have partnered to offer New Ideas grants and post-doctoral fellowships.
About Medicine by Design: Medicine by Design harnesses the extraordinary expertise at the University of Toronto and its affiliated hospitals at the convergence of physical and life sciences, engineering, mathematics and medicine to undertake transformative research in regenerative medicine and cell therapy. It fosters unique collaborations and uses engineering design principles and quantitative biological modelling to nurture innovative environments where breakthroughs emerge. Through strategic investments and partnerships, Medicine by Design is powering Toronto's bioscience ecosystem, strengthening Canada as a global centre for regenerative medicine and improving health outcomes. Medicine by Design is made possible in part thanks to a grant from the Canada First Research Excellence Fund. mbd.utoronto.ca.
About OIRM: Building on more than 50 years of world-leading research in stem cells and regenerative medicine, the Ontario Institute for Regenerative Medicine (OIRM) was launched in 2014 with a vision to revolutionize the treatment of degenerative diseases and make Ontario a global leader in the development and commercialization of stem cell-based products and therapies. More than 210 research programs at universities and institutions across the province are involved with OIRM, with additional contributions from key clinical and health charity partners and from OIRM's commercialization partner, the Centre for the Commercialization for Regenerative Medicine (CCRM). OIRM is based in Toronto and was realized with investment from Ontario's Ministry of Research, Innovation and Science. www.oirm.ca.
OIRM Media Contact:
Lisa Willemse
Senior Communications Advisor, OIRM
lisa.willemse@oirm.ca
613-304-2108