Medicine by Design has awarded Post-Doctoral Fellowship Awards to four emerging regenerative medicine researchers whose work could lead to better treatments for diabetes, intestinal diseases, cancer and autoimmune disorders. The awards provide funding for three years to high-calibre candidates at the University of Toronto and its affiliated hospitals who have outstanding potential to become independent researchers in the stem cell and regenerative medicine fields. Read more about them:
Yasaman Aghazadeh
Hometown
Tehran, Iran
Education
BSc, cell and molecular biology, University of Tehran, 2008
PhD, experimental medicine, McGill University, 2014
Laboratory
Cristina Nostro — Toronto General Hospital Research Institute, University Health Network, and Department of Physiology, University of Toronto
Research
Diabetes is a disease where the pancreas cannot produce sufficient levels of insulin to regulate blood glucose. We focus on developing functional pancreas tissue for patients suffering from Type 1 diabetes that can connect to the patient's vasculature, sense glucose and secrete insulin.
Why did you choose Toronto?
Toronto is the birthplace of insulin. Thanks to the efforts of Drs. Banting and Best and many others thereafter, diabetes patients have been able to live long and fulfilling lives. In recent years, Toronto has turned into a world capital for regenerative medicine. As someone interested in regenerative medicine approaches to treat diabetes, I can't think of a better place to be.
What are your post post-doc plans?
I would like to continue my research in regenerative medicine and translational therapeutics for disease modelling, stem cell therapies and drug development.
Arshad Ayyaz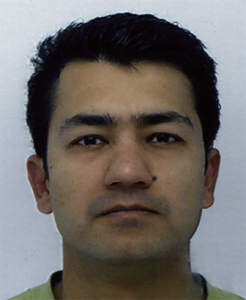 Hometown
Rawalpindi, Pakistan
Education
MS, integrated cell biology, Louis Pasteur University, 2008
PhD, molecular and cell biology, University of Strasbourg, 2012
Laboratory
Jeff Wrana — Lunenfeld-Tanenbaum Research Institute, Sinai Health System, and Department of Molecular Genetics, University of Toronto
Research
A wide range of environmental hazards such as pathogens, toxins and radiation deteriorate our organs, which constantly have to repair themselves with new cells throughout our lifetime. For example, our entire gut lining is replaced with new cells within a week. Such extensive and rapid production of new cells relies on stem cells, which have the ability to divide indefinitely and regenerate the damaged organ. But the molecular processes that enable stem cells to co-ordinate various molecular signals in intact tissues are not fully understood. We have recently identified that the immune system controls stem cell activity and have discovered key molecules that modulate regeneration of the intestinal lining. My current project will investigate how stem cells integrate multiple molecular signals secreted by the surrounding cells to perform their regenerative duty and maintain their functional integrity during inflammation and genotoxic stress.
Why did you choose Toronto?
I chose Toronto for training because it is undoubtedly a global hub for research in regenerative medicine. Since James Till's and Ernest McCulloch's discovery of stem cells in the 1960s, Toronto has produced many world-class scientists who have made ground-breaking discoveries in the field. Excellent expertise, a conducive working atmosphere and state-of-the-art research facilities make this city an ideal place for me to forward my career goals.
What are your post post-doc plans?
I am fascinated by the flexible nature of stem cells and their ability to resist, adapt and communicate with their surroundings, all of which is essential for successful regeneration of organs. After my post-doc, I intend to establish a research laboratory where I will utilize multiple animal and human models to further investigate regenerative responses, identify signalling mechanisms that confer unique features to stem cells, and utilize this information in regenerative medicine and stem cell therapy.
Dzana Dervovic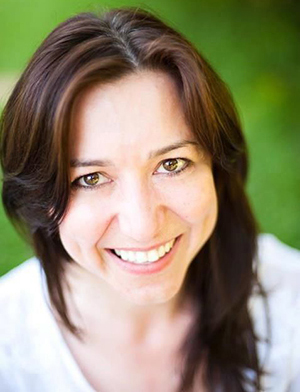 Hometown
Banja Luka, Bosnia and Herzegovina
Education
Honours BSc, biomedical sciences, University of Waterloo, 2000
PhD, immunology, University of Toronto, 2012
Post-doctoral fellow, experimental therapeutics, University Health Network, 2013–2015
Post-doctoral fellow, Lunenfeld-Tanenbaum Research Institute, Sinai Health System, 2015– present
Laboratory
Daniel Schramek — Lunenfeld-Tanenbaum Research Institute, Sinai Health System, and Department of Molecular Genetics, University of Toronto
Research
In 2015, non-small cell lung cancer killed more than 20,000 Canadians — more than breast, colon and prostate cancer combined. For most patients with this type of lung cancer, chemotherapy, radiotherapy and targeted therapies are not effective for long because mutations accumulate in certain genes, resulting in altered expression of numerous molecules. I am working on developing immunotherapies that will provoke patients' own immune systems to kill off the tumours, potentially improving treatments for this and other cancers.
Why did you choose Toronto?
Toronto has many world-renowned researchers and is a global hub for biotechnology. Those factors drew me here to do my PhD. I chose to stay in Toronto for my post-doctoral work in Dr. Schramek's laboratory since it is one of two labs in the world that have the specific expertise and equipment in tumour immunology that I was seeking. Although different institutions and different groups operate differently, and exposure to multiple research communities can be very beneficial, I know I made the right choice to stay in Toronto and take on a position in Dr. Schramek's lab.
What are your post post-doc plans?
My training in cellular biology and tumour immunology is being complemented and extended with Dr. Schramek's research in functional genomics and mouse modelling of human diseases. In unison with Dr. Schramek's expertise, core facilities of the Lunenfeld-Tanenbaum Research Institute and multiple strategic collaborations, I hope to capitalize on my extensive knowledge in cellular immunology, my meticulous work and my ability to interact with people at different levels to become an outstanding scientist in cancer immunology and immunotherapy.
Laura Prochazka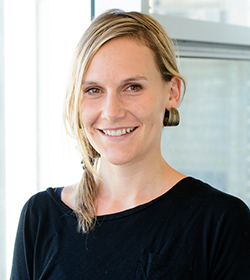 Hometown
Davos, Switzerland
Education
BSc, biochemistry, University of Zurich, 2008
MSc, biochemistry, University of Zurich, 2010
PhD, mammalian synthetic biology, ETH Zurich, 2015
Post-doctoral fellow, Department of Systems Science and Engineering D-BSSE, ETH Zurich, 2016
Laboratory
Peter Zandstra — Institute of Biomaterials & Biomedical Engineering, University of Toronto, and executive director of Medicine by Design
Research
I am using engineering principles inspired by computer science and electronics to design and create synthetic gene circuits — tiny biomolecular systems that compute multiple signals — inside living stem cells. My goals is to use these gene circuits to learn more about how stem cells differentiate into blood progenitor cells. Knowing this could help us increase the production of blood precursor cells from stem cells, leading to an unlimited source of cells to treat diseases such as leukemia and autoimmune disorders.
Why did you choose Toronto?
I chose Toronto because I want to merge my knowledge in synthetic biology with the stem cell field as I believe this can offer exciting new opportunities in future. Toronto is one of the best places in the world for stem cell research and regenerative medicine, so it is the ideal place for me to learn about this field. More importantly, I am working with Peter Zandstra, whose expertise in stem cell bioengineering perfectly complements my background. Additionally, Medicine by Design provides a unique collaborative environment to work across multiple disciplines. All these factors make Toronto one of the few places in the world where I could imagine that a new technology, such as the gene circuits I am developing, could be translated for the benefit of regenerative medicine in the future.
I also love how the University of Toronto and the Donnelly Centre are embedded in the middle of such a vibrant and multicultural city. Being connected to the "real" world is important to me, so Toronto is an attractive place to live.
What are your post post-doc plans?
I wish I could give you a job title! I love speculating about the future and contributing to shape the future is an incredible privilege, even if it is just a tiny bit in a test tube or by discussing or planning a scientific project. I would love keeping on having this privilege, whether in academia, industry or in another more unusual role that combines different sectors.