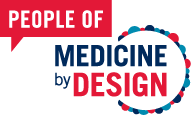 Meet the world-class researchers who are building the future of regenerative medicine. These are the people of Medicine by Design.
"I moved from China to the U.S. and then Canada, mostly for education, but also wanting to travel. After finishing my first degree, I was itching to go see the world and be further away from familiar scenery. The U.S. was a great option for post-graduate research. I ended up going to Dallas for my PhD study, and then to Boston for my post-doctoral training. 
I grew up with a good combination of science and the arts. I lived on a university campus where my dad was a professor of literature, and my mom was a high school biology teacher. I always leaned more to science, though — I liked to take things apart and put them back together. I was also drawn to being an educator. I think that came from seeing very close up how my parents could inspire and transform their students. 
But since my parents weren't research scientists, it wasn't really until graduate school that I realized I could make a living doing scientific research. I could be paid to answer my own questions, and that was very exciting to me.  
I've always been fascinated by the brain. It's such a beautiful object. Along my path of training, I've looked at it in different ways — how it works, how diseases can impair its function and, more recently, how the brain is formed. I'm fascinated with solving questions of basic science, and if some of my research helps people in 20 or 30 years, that's great. 
But I think I'd like my bigger impact to be teaching and educating young scientists, helping them to explore science and showing them what they can do. And maybe helping them to realize they could do things that they did not even realize they could do. 
I think the thing that has often inspired me the most, working with pediatric research, is witnessing the love and dedication of parents whose children are ill. I've done a lot of outreach events that connect patients and their parents with the people who do the research. Once, I spoke to parents and kids who are part of one small foundation in Boston. The next day was their major fundraising event, the Boston Marathon. It was 2013, the year the marathon was bombed. Every year since, they've gone back to run. Their dedication is quite incredible. 
Though I didn't know that much about Toronto before I moved here, I knew there were luminaries in regenerative medicine here, and I had already met some of them. I knew that stem cells were discovered here. So when the position at SickKids came to my attention, I knew it was an incredible opportunity. And when I came to visit Toronto for the first time, it felt like home. It's a big city, and reminded me of the city I grew up in.  I could imagine myself settling down here. Everything about Toronto just clicked really nicely."