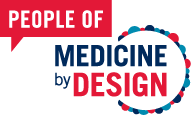 Meet the world-class researchers who are building the future of regenerative medicine. These are the people of Medicine by Design.
"My research focuses on cystic fibrosis, or CF. It's an inherited disease. There is no cure. The average life expectancy of patients with CF is 58 years in Canada, well below the national average. CF affects many organs in the body, but mostly the lungs, digestive system and pancreas. People with CF can experience a persistent cough with thick mucus, repeated lung infections, chronic constipation and other complications.
Much of our work involves understanding how the lungs develop in the fetus. With stem cells from humans, we can create live models of fetal lungs. This will help us identify cell signaling pathways and mechanisms of how certain cell types evolve during development and how any misregulation of these signals can impact that developmental process and disease progression like CF.
Our current Medicine by Design project looks at a type of cells in the airway that, in the case of CF, are not functioning properly to help clear out mucus, so it accumulates in the airways. This makes it difficult to breathe and traps viruses and bacteria that can eventually destroy the lungs. We are exploring strategies to "bypass" the part of the cell that is not functioning properly – compensating for the lack of function and activating the cells to do their job to clear mucus.
I'm thrilled to be working in regenerative medicine research. But this wasn't my original career plan.
My parents and I came to Canada from a refugee camp in Thailand when I was one. We had fled political instability in Laos, where I was born. Sponsors in Canada offered us a new life and we landed in Quebec City in the winter with nothing more than a few suitcases of clothes and sandals on our feet. I have a younger brother and sister who were born in Canada.
My parents worked blue collar jobs all their lives to give my siblings and me a better chance at life. We moved to Toronto when I was about five.
My love for science began in high school and much of that was because of a biology teacher, Mr. Gregory, who looked a lot like Albert Einstein. He had so much passion for biology. It made me want to learn.
My parents encouraged me to become a medical doctor. I took the undergraduate science courses that I thought would prepare me for medical school but in my third year, I realized medical school just wasn't for me. In my fourth year, I was intrigued by a talk by Bradley Strauss, a cardiologist (then at St. Michael's Hospital and now at Sunnybrook Health Sciences Centre) on his research on restenosis and vascular remodeling, a condition where the blood vessels get re-clogged after going through bypass vein graft surgery. I reached out to Dr. Strauss for an opportunity to learn more.
He offered me a summer studentship in his lab. That is where my interest in medical research began. I loved the independence and being able to come up with a research question and then figuring out how to solve it. I pursued a master's degree with Dr. Strauss.
Stem cell research caught my interest and I pursued a PhD in Tom Waddell's lab at the University Health Network in stem cells in lung regeneration.
During my PhD, I heard Shinya Yamanaka give a talk about a new technology developed in his lab where he could reprogram cells to become stem cells. I was intrigued by this work, so after I completed my PhD, I embarked on post-doctoral training with Janet Rossant and James Ellis at The Hospital for Sick Children. Taking lessons from mammalian lung development, I used this knowledge to come up with a method to make lung cells from stem cells. We published this work in 2012.
This is a very exciting time for regenerative medicine. We can make all sorts of cell types from stem cells and potentially use these cells for cell replacement therapy or use them to understand diseases or find new therapies.
My career has benefited from the guidance and support of many mentors and peers. Now I am in the position to pay it forward and I hope to be that supportive mentor to all my trainees and help guide their careers in academia and industry.
I try to live a balanced life. I have a supportive husband and two small children. My husband and I make it a point that we do not "work" after hours when the kids are awake or on the weekends. It's sometimes hard as I am a workaholic but it's so important and my kids love mommy-time!
And if this were 20 years ago, the advice I would give myself would be to stay focused, be confident and work hard."
Why Professor Wong is one of our People of Medicine by Design:
Professor Wong received a
2020 Medicine by Design New Ideas Award
for her project "Elucidating the role of modifier gene TMEM16A in individualized cystic fibrosis disease and therapy."