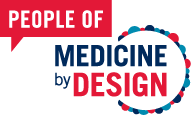 Meet the world-class researchers who are building the future of regenerative medicine. These are the people of Medicine by Design.
"My dad was an OPP officer, so our family moved around a lot, mostly in northern Ontario. I was born in Sioux Lookout, then we moved north, near Red Lake. Later, it was Fenelon Falls, in southern Ontario, but when I was 15, we moved back up north to Nipigon, about an hour east of Thunder Bay. I did high school there and my family is still there.
I was always interested in science, but in my early years at McMaster University, I had no idea what I wanted to do in science. But I was passionate about a summer job that took me back to northern Ontario fighting forest fires. I got on a crew through the Ministry of Natural Resources when I was 21. It was everything I was looking for at that age – good money, adventure and near-death experiences! The ministry eventually asked me if I wanted to do it full time. I enjoyed the work, but I didn't see myself at the age I am now running into the bush.
In third year, I had an immunology professor, Manel Jordana, and after his first lecture, I was smitten. I thought, "This is what I have to do." He agreed to let me do a fourth-year project in his lab. He handed me a stack of research articles to read. I took them up north to my summer job. Every night, everyone would be exhausted and fall asleep, but I'd turn on my flashlight and read the papers.
Science is about interpreting hard numbers and data, but in reading those papers, I've realized that science is also an exercise in creative storytelling. How you tell the story – the questions that you ask, how you go about answering them. I love the visual arts and literature, and I can see the drama in science.
I'm an associate professor in the departments of immunology as well as laboratory and pathobiology at U of T and I hold the Peter Munk Chair in Aortic Disease Research at the University Health Network. My work is broadly about immunology as it relates to cardiovascular disease. I primarily look at monocytes and macrophages. They are white blood cells found in bone marrow. They fight infection but can also cause serious disease, such atherosclerosis and abdominal aortic aneurysm, both of which are caused by plaque build-up in the arteries.
I study the science of how these conditions happen. Medicine by Design's focus on regenerative medicine has been important because they constantly force you to ask how you apply what you're learning for the benefit of people. To do that, we need collaborators. I've recently partnered with Omar Khan, who has expertise in nanotechnology. By combining our expertise, we are making solid progress on a method to stop aneurysms from starting.
When I got my first grant from the Canadian Institutes of Health Research (CIHR), I was immensely proud. And today, nine years later, I'm thrilled to see my former grad students and post-docs finding success. That makes me think, "I'm a mentor now. I'm helping people to get where they want to go." That's a proud moment.
I struggled at first with having my own lab and managing people. They don't teach HR, budget management and fundraising in, say, immunology at university. I've been helped by seeking out mentors, like colleagues in the science field and family members who have run their own businesses.
My motto is: "How do I get better?" If you think you've "arrived" and you know everything you need to know, that's the minute that you stop growing.
But you have to learn to take a break. I love being with my kids. I'm also learning the guitar and I do woodcuts and linocuts and paddle boarding.
If I could give my younger self some advice based on what I've learned, it would be, "Calm down." You think that everything that's happening to you in the moment is the most important thing on the planet. And so often it's not. Do what you can and then just press on."