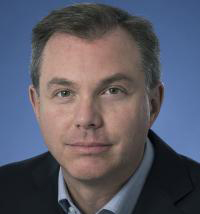 Aileen Gracias and Zohreh Izadifar were both part of the inaugural 2017 cohort of Summer by Design, a workshop aimed at preparing trainees from the University of Toronto and selected international institutions to translate and commercialize regenerative medicine discoveries. They recently interviewed Michael Laflamme, who leads a Medicine by Design team project focused on cardiac regeneration and is a founding investigator at BlueRock Therapeutics. Laflamme, who is the Robert R. McEwen Chair in Cardiac Regenerative Medicine at the McEwen Centre for Regenerative Medicine and a senior scientist at University Health Network's Toronto General Hospital Research Institute, told them about his experience translating his discoveries, opportunities in academia and industry, and the importance of mentors.
At what stage in your scientific research and development did you have the confidence to move forward to pursue translation and/or commercialization of your technology?
I have always been a translationally minded person, and I have worked closely with industry from the very onset of having my own research lab. In the case of our current research program, I think it was only when we had proof of concept data in large animals that we got the attention of industry and venture capitalists. Large animal models are very helpful in learning about potential hurdles that you will encounter in the translation process. So, I advise you to not be shy thinking about the right animal model early on in your research and going for the definitive experiment.
What has been, so far, the biggest challenge/bottleneck in the translation journey of your science/regenerative medicine technology? And, how have you overcome it?
In terms of the development of our cardiac regenerative therapy, the occurrence of transient graft-related arrhythmias represents the biggest technical challenge that hasn't been overcome yet, and this is now obviously a main research focus. The other major technical challenge that is relevant to nearly all regenerative medicine applications is the large-scale manufacturing of cells. Partnering with initiatives such as CCRM and BlueRock Therapeutics has been essential to address this challenge.
What components and ecosystem did you find essential for initial take-off of your technology towards translation?
Early large animal work and partnering with industry have been important components. Moving to Toronto also helped ramp things up tremendously by providing a uniquely supportive environment to move this work forward. Toronto really is a unique place to pursue regenerative medicine research. No other place that I know of has such built-in advantages in terms of the available expertise, the collaborative culture and research ecosystem. I'm grateful for strong financial support from multiple entities including University Health Network, the McEwen Centre for Regenerative Medicine, the Peter Munk Cardiac Centre, the University of Toronto, CCRM, Medicine by Design, the Ontario Institute for Regenerative Medicine and other governmental funding agencies. This generous support has obviously been absolutely essential.
Currently, a large focus of the regenerative medicine field is on the science and development side of technologies compared to commercialization. How do you envision the shift in focus, towards more translational and commercialization activities, may happen in the next 10 to 15 years?
Translating regenerative medicine is inevitably going to be expensive, and it is hard to imagine shouldering responsibilities for cell production, pre-clinical studies and very expensive clinical trials without an industry partnership. Furthermore, we need to tighten the loop with industry and work with them and our respective institutional tech transfer offices to navigate issues such as IP protection, regulatory affairs, and manufacturing scale-up. These are activities that are often unfamiliar to academic scientists. We need help from clinicians and commercialization partners to spot-check the developmental process and give red flags when something doesn't look feasible for further translation. Overall, for the regenerative medicine field to see more translation and investment, we need to have one or two big success stories to show that these paradigm-shifting approaches are worth the long-term commitments required.
What advice do you have for young trainees in the field of regenerative medicine who are approaching the end of their academic training and are deciding between an academic or an industry-related career path?
My impression is that the choice between academia and industry is not as irreversible as it may have once been. I personally know multiple examples of successful scientists who have followed one path and then later changed to the other. Networking and knowing which path best fits your career goals are key. Consider doing an industrial post-doc if you are keen on a career in industry.
Who do you get your inspiration and motivation from?
I have been very fortunate to have had great mentors, including Chuck Murry (a fearless scientist), Dan Bowen-Pope, Peter Becker, Ron Joyner and too many others to mention. I continue to benefit from role models and collaborators like Gordon Keller and many others.
What feature or qualities in those mentors do you admire most?
Creativity, fearlessness, the ability to perceive and ask the big question, rigour, the temper and scientific honesty to take data as it comes, a strong work ethic, and being humane. The field is so competitive and those who have benefited from their own mentors tend to take time to look out for others.
Aileen Gracias is a post-doctoral fellow in the laboratory of University Professor Molly Shoichet. Zohreh Izadifar is a post-doctoral fellow in the laboratory of Andras Nagy at the Lunenfeld-Tanenbaum Research Institute at Sinai Health System.