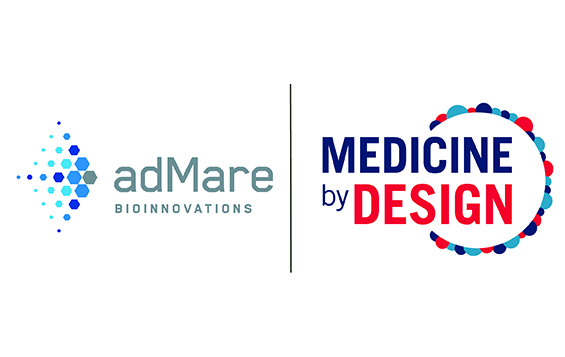 adMare BioInnovations (adMare) and Medicine by Design are pleased to announce their new memorandum of understanding (MOU) to support translation priorities, which will accelerate health innovation commercialization in the Toronto life sciences ecosystem and in Canada.
Medicine by Design is a convergence engine that undertakes transformative, multidisciplinary research in regenerative medicine and advances early-stage translation through strategic collaborations with leading commercialization accelerators. Under this MOU, adMare will contribute to advancing the translation of the most promising research projects that Medicine by Design is currently funding by extending their scientific and commercial expertise to Medicine by Design's community of researchers. To this end, this partnership agreement includes a framework for adMare to have regular touchpoints with Medicine by Design's pipeline of pre-clinical innovations.
"As adMare becomes further engaged with the Toronto life sciences ecosystem, we are thrilled to have the opportunity to be partnering with an organization such as Medicine by Design," said Amie Phinney, senior director of partnerships at adMare. "Toronto is one of the country's top hubs of life sciences innovations, and we look forward to working with Medicine by Design and all the ecosystem to transform the lives of millions of Canadians through the translation of the first-class research found here."
The two organizations come together with a mutual interest in supporting, translating and commercializing research and innovation-related products emerging from discoveries made across the Toronto Academic Health Sciences Network (TAHSN), which includes University of Toronto and its affiliated hospitals.
Allison Brown, executive director of Medicine by Design added, "This memorandum of understanding marks the start to an exciting collaboration between us and adMare. We share the goal of improving human health through innovation, and this partnership ensures we will have multiple touchpoints to work toward that common goal while promoting excellence through regenerative medicine collaborations."
About adMare
With a strong track record of globally competitive scientific discovery, Canadian life sciences are primed to lead the world. To make this a reality, adMare BioInnovations uses its scientific and commercial expertise, specialized R&D infrastructure, and seed capital to build strong life sciences companies, develop robust ecosystems, and foster industry-ready talent. It re-invests its returns into the Canadian industry to ensure its long-term sustainability. adMare currently has 28 portfolio companies that have attracted $1.4 billion of risk capital, have a combined value of $3 billion, and have created over 1,000 jobs in Canada. For more information, please go to
www.admarebio.com
About Medicine by Design
Medicine by Design builds on decades of made-in-Canada excellence in regenerative medicine dating back to the discovery of stem cells in the early 1960s by Toronto researchers James Till and Dr. Ernest McCulloch. Medicine by Design is made possible thanks in part to a $114-million grant from the Canada First Research Excellence Fund.

For additional information, please contact:
Anie Perrault, VP, Communications & Public Affairs
adMare BioInnovations
aperrault@admarebio.com
450-522-0615