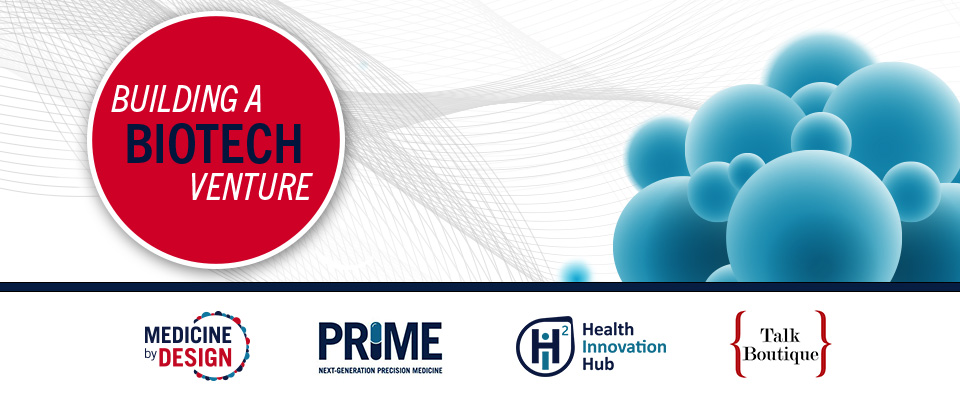 Register to join the audience at the 2022 Pitch Competition!
Join us in-person on May 30 for the Building a Biotech Venture Pitch Competition to learn how the next generation of regenerative and precision medicine researchers are preparing to translate their discoveries toward impact.
Watch as six trainee-led teams from the University of Toronto and its affiliated hospitals pitch their ventures to an expert panel of judges. The winning team will receive $25,000, and the second-place team will receive $10,000 in research funding to advance their product concept.
The competition is the culmination of Medicine by Design's Building a Biotech Venture program, offered in partnership with Precision Medicine Initiative (PRiME), the Health Innovation Hub (H2i) and Talk Boutique. Over the last six months, teams have worked with mentors to advance early-stage company concepts based on their research.
Come cheer on these up-and-coming entrepreneurs as they showcase their innovative technologies!
NOTE: This event will be held in-person in accordance with the University of Toronto's COVID-19 policies. Masks are required in indoor spaces where physical distancing cannot be maintained.
Meet the judges
Meet the teams
Azane Therapeutics
Delivering the promise of RNA therapy.
Lab: Institute of Biomedical Engineering and Department of Immunology, University of Toronto
This company's product, a delivery vehicle for mRNA-based therapies, has the potential to make it possible for rare diseases to be treated with mRNA. The platform could also apply to regenerative medicine treatments such as stem cell reprogramming and inflammatory disorders.
DTPX Therapeutics
Developing immunotherapy against hibernating drug tolerant cancer cells for colorectal cancer patients.
Lab: Princess Margaret Cancer Centre, University Health Network; and Donnelly Centre for Cellular and Biomolecular Research, University of Toronto.
When individuals are treated for colorectal cancer with standard chemotherapy, a cell population that's resistant to treatment can "hibernate" and re-emerge after treatment, causing the tumour to relapse. DTXP Therapeutics aims to create a platform that can selectively target these hibernating cells to reduce the chance of relapse, potentially benefiting many types of cancer.

Glusyn Diagnostics
Automated PCR-free diagnostic systems for rapid, low-cost, distributed usage.
Lab: Leslie Dan Faculty of Pharmacy, University of Toronto.
With mastitis in dairy cows as a use-case, this teams aims to develop automated PCR-free diagnostic systems that are shelf-stable and have low manufacturing costs.

A2O
Reprogramming for recovery.
Lab: Division of Anatomy, University of Toronto.
A2O has developed a type of gene therapy to convert toxic brain cells back into healthy cells to treat chronic neurodegenerative disease such as multiple sclerosis and Alzheimer's disease, as well as acute neurological injuries such as spinal cord injury. This therapy allows for a targeted approach that can be tailored to disease type, stage or severity.

One Drug
Enabling next generation drugs.
Labs: Leslie Dan Faculty of Pharmacy, University of Toronto; Institute of Biomedical Engineering, University of Toronto; and Department of Chemistry, University of Toronto.

Developing clinical point-of-care diagnostic devices that will enable clinicians and drug developers identify patients at risk of adverse drug reactions and/or suboptimal drug response based on their genetic makeup.

Scivance
Developing therapeutics for rare disease.
Lab: Department of Chemical & Physical Sciences, University of Toronto Mississauga
Only five percent of rare diseases have treatments, and a substantial portion of these rare diseases are caused by genes called fusion oncogenes. This team is developing a proprietary algorithm and multi-disciplinary pipeline which lies at the intersection of medicinal chemistry, structural biophysics and molecular biology, which can help develop treatments for these disease drivers.