The Medicine by Design Global Speaker Series invites established and emerging international leaders in regenerative medicine to engage with our extraordinary community of researchers and clinicians.
Medicine by Design, in partnership with the McEwen Stem Cell Institute, is pleased to welcome Matthias Lutolf, PhD, from the École Polytechnique Fédérale de Lausanne to give a talk titled, "Engineering Organoid Development." This event will be virtual.
About the Lutolf lab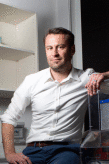 Matthias Lutolf is Professor of Bioengineering at the Swiss Federal Institute of Technology Lausanne (EPFL) and founding Director of the Roche Institute for Translational Bioengineering. His research focuses on the development of advanced bioengineering strategies to produce next-generation organoids with improved reproducibility and physiological relevance for basic research and real-world applications in drug discovery and precision medicine. For example, he pioneered the generation of organoids in fully controllable hydrogel matrices and novel approaches to control organoid patterning and morphogenesis through microfluidics, bioprinting, and microfabrication.
Talk abstract: Engineering Organoid Development
Organoids form through poorly understood morphogenetic processes in which initially homogeneous ensembles of stem cells spontaneously self-organize in suspension or within permissive three-dimensional extracellular matrices. Yet, the absence of virtually any predefined patterning influences such as morphogen gradients or mechanical cues results in an extensive heterogeneity. Moreover, the current mismatch in shape, size and lifespan between native organs and their in vitro counterparts hinders their even wider applicability. In this talk, Matthias Lutolf will discuss some of his ongoing efforts in developing next-generation organoids that are assembled by guiding cell-intrinsic self-patterning through engineered stem cell microenvironments.