The Medicine by Design Global Speaker Series invites established and emerging international leaders in regenerative medicine to engage with our extraordinary community of researchers and clinicians. Medicine by Design, in partnership with the McEwen Stem Cell Institute, is pleased to welcome Jeff Biernaskie, PhD, from the University of Calgary.
Talk title: Insights into the determinants of tissue regeneration versus scar formation.
This is a hybrid event. Register for the in-person or virtual option. Lunch will be served to in-person registrants.
This event is also being sponsored by the Collaborative Specialization in Developmental Biology.
About the Biernaskie lab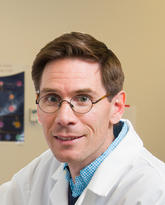 Dr. Biernaskie completed his BSc in Neuroscience at the University of Lethbridge. He earned a PhD in Neuroscience at Memorial University studying the effects of focused rehabilitative experience on brain plasticity following stroke. He completed postdoctoral training with Freda Miller and David Kaplan studying skin and neural stem cell biology at the Hospital for Sick Children in Toronto. In 2009, he joined the Faculty of Veterinary Medicine at the University of Calgary, where is he currently a Professor in Stem Cell Biology and Regenerative Medicine. He is a member of the Alberta Children's Hospital Research Institute and the Hotchkiss Brain Institute and he holds the Calgary Firefighters Burn Treatment Society Chair in Skin Regeneration and Wound Healing. In 2019, he was elected as a member of the Royal Society of Canada, College of Scholars, Artists and Scientists.
His research program is focused on understanding the cellular and molecular mechanisms that promote fibrotic versus regenerative healing with the goal of developing treatments to restore organ function following injury or disease. His group is also interested in how skin and brain stem/progenitor cells are regulated during homeostasis and how factors like injury, advanced aging and the immune system impact their function.
Talk abstract
Adult mammals have evolved to heal deep skin wounds by forming fibrotic scar in order to most efficiently fill the defect and support reepithelialisation to prevent infection. But it is unclear as to the mechanisms that drive this propensity and whether there are ways to re-awaken pro-regenerative processes in order to better restore normal function to the healed skin. I will describe our work in captive adult reindeer which provides a powerful comparative model of scarless versus fibrotic skin wound healing. Full-thickness injuries of reindeer antler skin (velvet) exhibit near-complete regeneration, whereas back skin forms fibrotic scar. By employing single-cell multi-omics we found that even prior to injury, velvet demal fibroblasts exhibit a transcriptional ground state that resembles human fetal fibroblasts, whereas back skin fibroblasts express inflammatory mediators mimicking pro-fibrotic adult human and rodent fibroblasts. As a consequence of these distinct resting states, skin injury elicited site-specific immune responses: back skin fibroblasts amplifying myeloid infiltration and maturation, whereas velvet fibroblasts adopted an immunosuppressive phenotype that restricted leukocyte recruitment and hastened immune resolution. Finally, I will describe additional experiments that highlight a critical role for fibroblasts in orchestrating local immune function during wound healing and that decoupling these fibroblast-immune interactions may be a promising approach to mitigate scar.