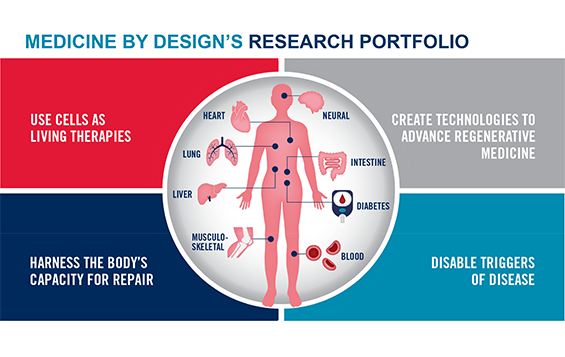 Last December, Dr. Victor Dzau, president of the U.S. National Academy of Medicine, joined Medicine by Design's annual symposium with a message: Healthy longevity, living not only a long but also a healthy life, is becoming more possible than it ever has been.
"If you look at half a century of…scientific revolutions, what we are seeing is a convergence of both biomedical science and digital sciences," Dzau said. This convergence, he added, has driven critical tools and technologies such as genetic engineering, synthetic biology, and artificial intelligence, and has left researchers poised to make unprecedented breakthroughs.
Dzau's words illustrate the core strategy that Medicine by Design has advanced since its inception in 2015: Convergence — developmental and stem cell biologists working alongside engineers, chemists, genomics experts, clinicians and many others — is the key to advancing regenerative medicine and paving the way for novel approaches to treating disease and even preventing it before it starts.
Medicine by Design's research programs like the Grand Questions Program and our large team projects are driven by the idea that ending chronic diseases, which can devastate one's quality of life and increase the risk of mortality, through regeneration is the key to a longer, healthier life.
Last year, when we launched the Grand Questions Program, we asked our community what the most pressing "questions" regenerative medicine has yet to solve are. The ambitious vision for the Grand Questions Program, inspired by other high-risk, high-reward funding programs including the Cancer Research UK Grand Challenge and the NCI Provocative Questions Initiative, was designed to provoke bold and revolutionary proposals from our community at University of Toronto and its affiliated hospitals.
One of the short-listed grand questions was in the area of senescence and aging. Can we vastly improve on current approaches to prevent aging, or develop new concepts and propose novel technologies that in turn will reverse the inevitable process of aging and increase the human healthy lifespan? That this was agreed to be one of the paramount issues in regenerative medicine is illustrative of the drive researchers in our community have to illuminate a path to vastly healthier aging.
The challenges on the way to this goal, of course, are many, and this is why Medicine by Design assembles large teams to work on complex, multi-dimensional problems. Solving human health's most intractable issues begins with a bold vision, and it's the diverse approaches of a team of multi-disciplinary specialists that will work out the kinks and bring the vision closer to reality.
Several of our large team projects focus on regeneration to treat some of the most common health problems facing the aging human population:
Transforming human health so that people can live longer, healthier lives is the goal of regenerative medicine. And it's this goal that propels us forward to pursue bold, new, unconventional and innovative research.
This blog is just one of many covering the topic of aging as part of Signal's sixth annual blog carnival. Please click here to read what other bloggers think about this.