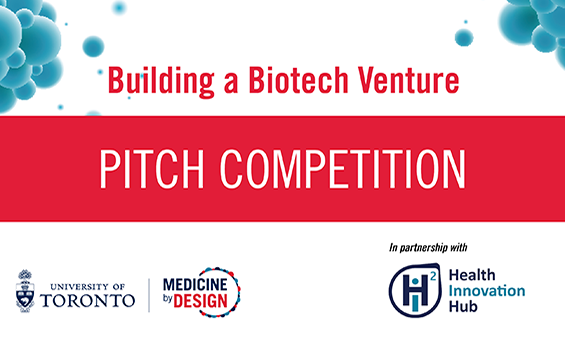 Six teams of trainees from regenerative medicine-related labs at the University of Toronto and its affiliated hospitals will share how they plan to translate their discoveries toward impact at the Building a Biotech Venture Pitch Competition.
On May 19, the teams will pitch their ventures to an expert panel of judges and compete for $25,000 in research funding.
The competition is the culmination of Medicine by Design's Building a Biotech Venture program, offered in partnership with the Health Innovation Hub (H2i), a campus-linked accelerator at the Temerty Faculty of Medicine at U of T. Over the past three months, the program has offered workshops and mentoring to help teams advance early-stage company concepts based on their regenerative medicine research.
"The pitch competition will be an exciting finish to the first edition of the Building a Biotech Venture program," says Allison Brown who is the director of strategy & translation at Medicine by Design. "All of the teams who participated in the program, whether they made it into the competition or not, have had an opportunity to learn how to build a product or venture concept from their research and to start translating these concepts into a tangible business opportunity, with mentorship and education every step of the way."
Brown adds that the quality of the applications for the pitch competition was high and narrowing down the six finalists was a difficult process. "It will be just as challenging to pick a winning team to receive the funding that will provide support to advance their early-stage venture through execution of key, pivotal experiments. All six of the competing ventures have the potential to make a positive impact on human health."
In addition to the support trainees were given in developing their venture concept, they also received coaching from Talk Boutique, a speaker representation and coaching company, to polish their virtual presentation skills including body language, vocal intonation and storytelling.
The community is invited to watch the competition, where each team will pitch for five minutes in front of a panel of five judges.
"The judges at Medicine by Design's pitch competition are all experienced at building businesses and also bring their deep experience in such fields as biotechnology, artificial intelligence and venture incubation. This expertise will help us choose a team that is especially well-positioned to advance their venture concept towards a real business opportunity," says pitch competition judge Avi Goldfarb, chief data scientist at the Creative Destruction Lab, and the Rotman Chair in Artificial Intelligence and Healthcare, and a professor at the Rotman School of Management, U of T. "I'm happy to be part of this effort to support emerging ventures in regenerative medicine-related areas, which is critically important to the future of the biotech sector in Canada."
In addition to Goldfarb, the judges are Mike Cooke, co-founder & CEO of AmacaThera; Robin Quirk, director of technology sourcing and venture development at CCRM; Andrea Sampson co-founder & executive speaker coach at Talk Boutique; and Emily Titus, vice-president, process sciences at Notch Therapeutics.
All six teams were selected because of the strength of their concepts, which all have potential to make a positive contribution to the regenerative medicine-related ecosystem:
Dandelion Biologics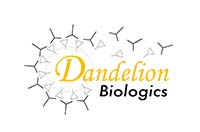 Dandelion Biologics is an antibody discovery company that has leveraged its technology to identify antibodies against therapeutic targets. Developed by trainees in the Sachdev Sidhu lab at the Donnelly Centre for Cellular and Biomolecular Research at U of T this venture is dedicated to developing regenerative therapeutics for traumatic injury and tissue repair.
HDAX Therapeutics

Trainees out of the lab of Patrick T. Gunning in the Department of Chemical & Physical Sciences at the University of Toronto Mississauga are proposing a safer way to treat neurodegenerative diseases. Drug treatments for these diseases often cause severe side effects and toxicities because current drug treatments have poor targeting and require large doses. The product this team is developing improves targeting, therefore reducing the side effects and the dosing required.
Laetech
This team, from the lab of Paul Santerre at the Institute of Biomedical Engineering, U of T, is developing a soft tissue filler that harnesses the regenerative capacity of fat, and improves the clinical outcomes in cosmetic and reconstructive surgeries. This product improves the ability of the fat used, or "grafted," in these procedures to hold its volume, which leads to a more predictable, better-performing product.
LifeScreen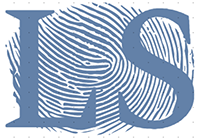 This venture is developing a way to test a skin sample for markers of biological age, which can vary from a person's chronological age. For example, a person's aging might be slightly delayed compared to other same-age peers. This team from the lab of Ran Kafri at The Hospital for Sick Children hopes that this information can be used to offer personalized medical care and interventions.
MyoThera

Trainees in the labs of Penney Gilbert, Donnelly Centre for Cellular and Biomolecular Research, and Alison McGuigan, Department of Chemical Engineering and Applied Chemistry and the Institute of Biomedical Engineering, want to improve quality of life for patients with Duchenne muscular dystrophy (DMD). In DMD, muscle loses the ability to regenerate itself. MyoThera is working on developing a technology that can identify "targets" in patients with DMD and deliver regenerative stem-cell therapies to those targets.
PancraTECH
This venture, led by trainees in Cristina Nostro's lab at the McEwen Stem Cell Institute at University Health Network, has developed media that can produce pancreatic and other useful cells from pluripotent stem cells, which are cells that have the ability to change into any type of cell in the body. These cells can become insulin-producing and offer a way to control type 1 diabetes without injections.
About Medicine by Design and Regenerative Medicine
Funded by a $114-million grant from the Canada First Research Excellence Fund, Medicine by Design brings together more than 150 principal investigators at the University of Toronto and its affiliated hospitals to advance regenerative medicine discoveries and accelerate them toward impact. It builds on decades of made-in-Canada excellence in regenerative medicine dating back to the discovery of stem cells in the early 1960s by Toronto researchers James Till and Dr. Ernest McCulloch.
Regenerative medicine uses stem cells to replace diseased tissues and organs, creating therapies in which cells are the biological product. Regenerative medicine can also mean triggering stem cells that are already present in the human body to repair damaged tissues or to modulate immune responses. Increasingly, regenerative medicine researchers are using a stem cell lens to identify critical interactions or defects that prepare the ground for disease, paving the way for new approaches to preventing disease before it starts.