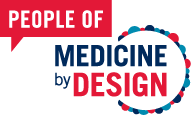 Meet the world-class researchers who are building the future of regenerative medicine. These are the people of Medicine by Design.
"I was born and raised in the Netherlands, in a small village called Wilp. It's in a farming region on the eastern side of the country. No one in my family is in science or research, but when I was growing up, I loved watching this kids' science quiz show on Dutch television. My dad and I would build entire experimental installations in our living room prior to the show to try to answer questions about the gravity on a slope, the surface tension of soap bubbles or the position of planets in our solar system. We were wrong 90 per cent of the time. But just trying to figure out the answers was my first attempt at making a hypothesis and answering it by doing an experiment. This was also my first experience with failing in an experiment, which probably instilled some resilience in me that comes in handy in the lab every now and then!
These home experiments got me interested in science, research and discovery. So I did my bachelors in biomedical sciences and my master's degree in regenerative medicine and technology.
Currently, I'm a PhD candidate in the labs of two U of T professors – Dr. Alison McGuigan and Dr. Penney Gilbert. Our goal is to engineer 3D tissues in the lab that mimic a part of a diseased human organ. We use a combination of materials native to living beings, such as cells and proteins, and materials that we cannot find in the body, such as cellulose, that we can easily modify to give the engineered tissue the characteristics that we want it to demonstrate. These engineered tissues allow us to study aspects of the disease that are hard to examine in an actual organism.
The focus of my work is engineering a tissue that mimics obese fat tissue, but many more diseased tissues can be studied this way. For instance, our lab's Medicine by Design project is also using this 3D tissue engineering method to study muscle repair in the case of muscular dystrophy and other degenerative muscle conditions.
Our lab's work is a good example of why it's an exciting time to be in regenerative medicine: tissue engineering and regenerative medicine strategies enable us to model a disease in the lab, which can help us answer big unknowns.
I'm passionate about the field of fat tissue engineering and my goal is to contribute to developing better therapies that can help people who live with obesity, who experience discrimination, barriers to participation in society and obstacles when accessing health care. As researchers, we need to improve our understanding of obesity to help break down these barriers. As we have now developed our engineered obese tissue, we've been connecting with clinicians. This is really exciting.  We can learn about the urgent research questions that the clinicians come across. And we can use our tissue model to help answer these questions.
Medicine by Design has also supported me in starting a research discussion group focusing on adipose, or fat, tissue. Together with a few researchers from U of T and the affiliated hospitals, I started the Adipose Biology Seminar Series with the goal of exchanging ideas that might lead to research collaboration in and around U of T. Now, a year later, many researchers from across Canada, and even the U.S., South America and Europe, are tuning in every month. The COVID pandemic really diminished opportunities for trainees to communicate their science, so we're excited to host not only professors and global leaders, but also many trainees who showcase their work.
Outside of my research, I love being outdoors. The winter in Canada is much harsher than in the Netherlands but I have learned that the winters are much more fun when you go outside and stay active. I really enjoy ice skating. And in the summer months, I like to go hiking and camping, which is a great way to explore the remote areas in Canada.
Over the next years while I complete my PhD, I hope to learn more about my career goals. For now, I know that I feel at home in a university setting, combining research with teaching and mentoring. There's a great variety in this work. I enjoy it all."
Why Vera Pieters is one of our People of Medicine by Design:
Vera Pieters is a PhD candidate in the labs of Medicine by Design-funded investigators Alison McGuigan and Penney Gilbert. She also organizes a
Medicine by Design discussion group
focused on adipose tissue.