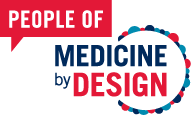 Meet the world-class researchers who are building the future of regenerative medicine. These are the people of Medicine by Design.
"A few different things inspired me to become a researcher. Brian Dixon, a professor during my undergrad at the University of Waterloo made me fall in love with immunology. I had encouraging and brilliant mentors for both my PhD and post-doctoral fellowship that showed me the power of the immune system, and how it could be harnessed in new therapeutic approaches. Working in these inspiring environments lit a fire to build a career in immune tolerance research.
I feel fortunate to work in Toronto because of the world-class scientists I get to interact with every day, and the ability to access cutting-edge technologies within the University of Toronto and University Health Network.
My research focus is understanding mechanisms of immune tolerance — how your body decides if something is a threat or safe — and developing new ways of harnessing these biological processes in therapies. In cancer immune therapy, we want the immune system to recognize a tumor as harmful. But in transplantation or for autoimmune diseases, we want to train your body to not reject or attack these organs, tissues or cells. Fine tuning your immune system to get specific responses in these very different contexts is the focus of intense research world-wide and is revolutionizing medicine.
Several projects we're working on involve looking at patients who are transplant recipients. We're looking at why in some patients, the transplant is accepted, but other patients instead experience transplant rejection. We're using a lot of advanced genomic approaches, including platforms that look at both immune and non-immune cells at a single cell level, to examine the difference between those who develop rejection and those that do not. We are also pursuing more fundamental questions looking at how circulating and tissue resident immune cells are regulated and contribute to tissue homeostasis. This will help us to identify new immune-based approaches for transplantation of cells or organs.
I hope my impact on science is two-fold. It's enjoyable to mentor young scientists who are developing their scientific thinking and their love of discovery. I also hope my research one day translates into something that helps patients.
Translational research for me doesn't just mean that what we're doing in the lab goes into the clinic, but also what is happening in the clinic informs what we're doing in the lab. In addition to our collaborations with other fundamental scientists, we work with clinicians to make sure what we're doing has a relevance to what clinicians are seeing in patients and is not too artificial or too far away from what is actually occurring in humans.
We've had a lab for three years, and half of that has been during the COVID-19 pandemic. Despite that, four students have graduated, and the lab currently has six PhD students. I'm excited about the fact that they are on their way to becoming successful scientists, and about how integrated our teams are with the research and clinical community here in Toronto. I'm proud of being so new yet being able to get interesting projects that bring together expertise in regenerative medicine, immunology and transplantation up and running in these challenging times.
Our perseverance as a team has come from looking after each other — checking in and helping with different projects where we need to. There was a lot of readjusting that had to happen because of the labs being shut down and everyone on the team's attitude was, "Whatever it takes, we're going to do it."
After the pandemic, I'm looking forward to meeting with fellow scientists in-person and one-on-one again. There is something about having conversations around science in formal and informal settings that builds collaborations and fosters new ideas. Those conversations are what I have been missing the most during the past 18 months."
Why Professor Crome is one of our People of Medicine by Design:
Professor Crome is a Medicine by Design New Investigator. She received a
2019 Seed Fund Award for her project
, "Engineering ILCs that induce tolerance and promote tissue repair." She is also part of a
large team project
that looks at strategies to prevent the immune system from rejecting transplanted tissues derived from stem cells.