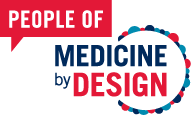 Meet the world-class researchers who are building the future of regenerative medicine. These are the people of Medicine by Design.
"I was born in Resende in Brazil. It's a small city of approximately 130,000 people, about two hours from Rio de Janeiro. I had a passion for science, especially biology, at a young age. My dad had a little piece of land where he grew things and raised animals, so that got me interested in the natural world. And in high school, I had very good teachers in science. I remember them giving lectures that really raised my curiosity.   
I am the youngest of six siblings and I was fortunate to be the first in our family to go to college. I continued following my interest in biology. I took a cell biology course that had a lab component. We got to perform our own experiments, and I loved being able to do that and see the outcome. I still remember the first experiment we did. I knew that I wanted to do nothing else. 
I didn't know about graduate school until I went to university, but when I found out, I thought, "Oh, of course, this is what I want to do." Every break I had in class, I would go back to the lab. 
Even when I was training as a post-doctoral fellow, underpaid and working long hours, I found it fascinating. Every time we captured an image in the microscope, we were like, "Oh, look at this. This is really cool."  

Today, I'm a scientist at UHN and an associate professor in the Institute of Biomedical Engineering at U of T. In the lab, we focus on studying the vasculature and the heart in the context of disease. We're creating platforms that model the human organ function, to study the impact of cardiovascular disease and diabetes, and to uncover potential treatment targets. And we're developing regenerative medicine strategies for things like myocardial infarction and diabetes with a focus on cell replacement therapies for tissue vascularization. 
Regenerative medicine is advancing rapidly. It's motivating to be part of this field. The focus now is interdisciplinary — bringing scientists together who are from different areas of specialty.    
The thing with research, though, is that we don't know what we don't know until we start doing it. Some think, "This is going to be a straight line, we're going to put the cells in, and it's going to change the world forever." Well, not so fast, right?     
We simplify the problems so we can start nibbling at them. You can't just ask this huge question and do one experiment. You break it down into small pieces. And when you do, you find out that when you change A, you affect Z. So, you have to look further.     
With each step, you contribute to the body of knowledge that we can all use to improve people's health. I like helping to make that impact. And there are other ways. One area I'm particularly engaged in and hoping to advance is improving equity for women and underrepresented groups in science. 
As a scientific leader and as a professor, I also want to be a mentor to colleagues and students. When I was doing my PhD, I was treated for Hodgkin's lymphoma. I had to take a year off. After the treatment was over, I still finished my PhD within four years. I wish I had said, "Wait a minute. I can take an extra year and figure things out slowly." I wish I'd had more mentorship back then to help me make that decision. Because I had that experience, I am more aware now that people need support beyond their scientific work.      
I work with fantastic people. We've made some interesting contributions to cardiovascular research and revascularization. And that's all because of the people who work in the lab. I'm proud of us. 
I'm looking forward to seeing where our research will take us in the coming year. I'm also eager to visit my family in Brazil. It's been over two years since I've been with my mom and siblings.  It will be nice to be able to go back with my husband and our daughter."