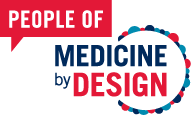 Meet the world-class researchers who are building the future of regenerative medicine. These are the people of Medicine by Design.
"I played violin seriously throughout high school and was a member of the Toronto Symphony Youth Orchestra. It was a great experience and we had opportunities to perform in master classes for stellar musicians from around the world. But I really loved playing chamber music, especially repertoire from the Baroque and Romantic eras. As a chamber musician playing in a small group, you don't have to be a virtuoso. You can be a strong, solid player who contributes to a collective that makes beautiful music together.
When I started my undergraduate degree at U of T, I quickly realized I couldn't continue to practise violin for four or five hours a day and do well at school. I had to make a choice, and I chose science. I don't think I made the wrong decision, but I still miss music.
I loved every minute of my PhD, which focused on hematopoietic, or blood-forming, stem cells. Toward the end of my PhD, a clinician-scientist trainee in an adjoining lab encouraged me to apply to medical school. He told me I had the right persona to be a good doctor and a good scientist. So that's what I did. A lot of people who go down this path burn out. But I was lucky because all through medical school, I found mentorship. This was critical to me because I wanted to be able to do both, science and medicine. I still had the fire in the belly for science and I knew medicine alone wasn't going to be enough for me.
I'm really interested in understanding why and how the heart fails, and how we can help the heart to regenerate itself. As a cardiologist who looks after patients with end-stage heart failure waiting for heart transplants and mechanical hearts, it's really important to me to think outside the box about these questions. That's exactly what we are doing in our Medicine by Design team project. We are investigating the role of clonal hematopoiesis – an inflamed state that is driven at the level of blood stem cells – in heart failure.
I am looking specifically at patients who come to our coronary care unit with cardiogenic shock, a state of shock where the heart cannot pump enough blood and oxygen to the vital organs. We have upwards of 13,000 patient samples that we have collected from patients at the Peter Munk Cardiac Centre over the years. We are using these samples with their clinical information to understand the role of clonal hematopoiesis in developing a shock state, and to see if we can predict which patients will survive and which patients will become very sick and require a heart transplant. With that information, we could then go back a few steps when we see people in clinic and say, 'We have to be extra cautious with you.' It could change how we think about patients earlier on in their disease progression.
Building multi-disciplinary research teams is critical to making advances. PhD scientists, clinician- scientists and clinicians all bring different lenses and skills to the work that a single person usually doesn't have. Combining this expertise enables us to answer key clinical questions with a basic science lens. Our Medicine by Design project speaks to this approach incredibly well because so many fields are represented, including artificial intelligence, which is an important piece of analyzing all the genetic data and clinical factors. I'm really excited because my gut says we are going to find something."