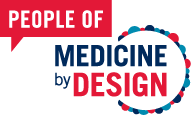 Meet the world-class researchers who are building the future of regenerative medicine. These are the people of Medicine by Design.
"I was born at Toronto General Hospital and raised with my sister in the Scarborough area of Toronto.  My parents immigrated to Canada from Guyana.
My mom worked in a factory and was also a hairdresser. My dad was in an accounting-related field, but when he first came to Canada, he also worked in a factory. Dad lost his arm as the result of an accident at that factory.
His accident was what first motivated me to become an engineer. I was around seven years old and I was banging my fork on the table. My dad flinched and I saw him try to move the arm that he had lost. He told me it was a "phantom" reaction — he sometimes felt as if his arm was still there. That's when I started to ask questions. Dad lost his arm before my sister and I were born and he always had a prosthetic, but I thought it would be really cool if I could regenerate his arm. I promised him I'd try to do that.
I was fascinated by biology, chemistry and physics in high school. I knew I wanted to go to university and contribute to society through science. I did my undergraduate and graduate degrees in chemical engineering and applied chemistry at U of T. My graduate supervisor, Michael Sefton, was a huge inspiration to me. His thoughts on combining chemistry and engineering to model how the body works, grows and heals resonated with me. After graduate school, I went to MIT to do postdoctoral research with Daniel Anderson and Bob Langer. Then, I stayed in the Boston area and worked in the biotech industry. After a few years in Boston, I came back to U of T as an assistant professor and Canada Research Chair two years ago. I'm thrilled to be working with Michael Sefton now and thankful for the tremendous opportunity to join Medicine by Design.
Today, I'm applying that model of combining fundamental science and applied engineering to my work. In my lab, we approach regenerative and preventative medicine from a genetic angle. Our goal is to help people's own cells repair damage and prevent disease.
We work with nanomaterials — small chemical materials that coordinate the cellular delivery of nucleic acids, which are information-carrying molecules that silence, regulate, express or help edit genes. My lab is applying nanotechnologies to treat chronic inflammation, autoimmune diseases, cancer and to clear viruses in incurable infections. We also work on preventing diseases before they start.
The fact that we can approach this level of sophistication in our work shows that regenerative medicine has really grown as a field. The first wave in regenerative medicine used biomaterials and stem cells to help regenerate and treat diseases. Now we have new tools, like nanomaterials and nucleic acids, that can help us go further.
Outside of my lab work, I've always done my best to help with science outreach. Over the past year, I've talked with the media often about COVID and vaccines. Taking these opportunities is important for me because there's a disconnect between the reality of science and how that science is shared with people. I want to help people understand science and how it affects them.
My life is busy with my work and family, but when I have free time, I have two passions. One is astrophysics. When I was a kid, my parents would take us to community events where astronomers would let us look through their telescopes. Seeing Jupiter for the first time was amazing! I was so impressed by these people who volunteered their time, including the transport of giant telescopes, to let us experience space. The example those selfless scientists set is another reason I do science outreach today.
My other passion is for motorcycles. It's just a fun way to travel. When I was in Boston, I used my motorcycle to deliver nanoparticles from our lab at MIT to our collaborators at Harvard. Our nanoparticles delivered nucleic acids, but I delivered the nanoparticles.
This year, I'm looking forward to seeing my grad students get the credit they deserve for their hard work. They've done an amazing job despite the pandemic restrictions. I was fortunate to build a team that is diverse and experienced. It was beautiful the way everybody came together. This year they're going to be presenting their work at conferences and through publications. They've worked hard and I'm proud of their achievements.
When I think about the future, the greatest challenge is diversity. How do we ensure that underrepresented groups have equitable research opportunities? Also, we need to recognize that diversity in training, whether it be from academia or industry, is valuable. Having diversity in representation, thought and experience is important because I believe it nucleates innovation. And diversity is not only limited to research. My wife and I have two young children. What is the future for our mixed-race babies? I hope it's a future that is supportive, inclusive and inquisitive."