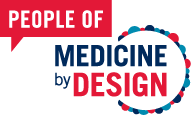 Meet the world-class researchers who are building the future of regenerative medicine. These are the people of Medicine by Design.
"I'm a scientist working in a really exciting area. My lab is focused on designing new biological parts, such as proteins and genes, for human cells. The goal is that our cell design will one day allow us to augment the function of human cells and even turn them into therapeutic devices.  
For example, say you have arthritis in your knee. We would take a blood sample from you, turn it into stem cells, and from those make new cartilage cells to implant into your knee. These cells will also receive our genetic circuit and so if arthritis flares up again, the cells will detect this and deliver a therapeutic response for the rest of your life. You'd never even know that you have arthritis. 
I'm thrilled to be doing this work and thankful for the support of the University of Toronto and Medicine by Design. But it's been quite a journey getting to this point.   
I grew up in a rural region of central England called Derbyshire. We lived about an hour outside of Nottingham, an area famous for the Robin Hood stories. I had two passions as a kid. One was science. It was just this natural interest. None of my family or friends were into it. But I loved chemistry and taking things apart and putting them back together.   
We lived near the Peak District, where there's a national park with rugged terrain. Around age 12, I started climbing the steep cliffs with my friends, which became my other passion. I didn't know climbing was an actual sport.  
Eventually, I got a BSc in chemistry and started working for a chemical manufacturing company.  But my childhood interest in climbing became a real passion for mountain climbing. I got so serious about it that I was pursuing a career as a professional mountaineer.   
In 2006, I was attempting the first solo climb of Europe's tallest rock face, the Troll Wall in Norway. It's about twice the height of the CN Tower. I fell and broke my neck. My injuries left me permanently paralyzed below the neck and waist. 
I was in hospital and rehab for a year. During that time, I worked with occupational therapists every day. They taught me how to use computer entirely by mouth. I remember saying to myself that, by using this technology, "I am actually going to be able to do something when I get out of here." 
It seemed obvious to me that education was the way to go. But what would I study and then do? My inspiration came from the experience in the hospital, which made me realize I wanted to contribute to and positively impact society somehow.   
I had never thought this way before. Being surrounded by people helping me re-learn how to live literally every aspect of my life really shifted my thinking. 
The next question was what I was interested in? In my soul searching, I found myself fascinated by molecular biology and the structures of proteins and DNA and how they function and are constructed at the atomic level. So, a couple of months after leaving hospital, I went back to university and got my Master's and PhD. 
I joined the University of Toronto as a faculty member in 2018. Through our work and the work colleagues are doing, it's clear to me that it's an incredibly exciting time in regenerative medicine.  It's a quickly maturing field, where clinical applications are in sight. There are a few hurdles in the way to achieving what we want, but I believe great things that will have a positive impact on society are absolutely possible. I'm excited to be able to maybe put some of the final pieces into the jigsaw puzzle. I also plan to start a company to bring our healthcare technology to people who need it.   
I also have a lot of hobbies and interests. I love sailing and back in the UK, I had a boat that I could operate electronically by using my mouth. And I've done quite a bit of stone sculpture, also using my mouth. 
I've spent a lot of time and effort putting the lab together over the past few years. It's certainly looking like this year is going to be the year when the effort – all the funds raised and people recruited — is going to start bearing the fruits of scientific discovery and invention. And we're starting to see the preliminary data coming out of the lab. This year we are going to produce some really exciting science. "