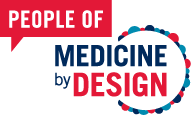 Meet the world-class researchers who are building the future of regenerative medicine. These are the people of Medicine by Design.
"I can't say I had a linear career path to becoming a neuroscientist. I graduated high school in the U.S., thinking I would major in pre-med and Spanish. When I chose to go to school in Scotland, where undergraduate degrees were focused on the study of a single subject, I picked physiology. I certainly did not excel in animal physiology, or plant biology. I only realized I actually liked science in my final year, when I ended up in a neuroscience lab in Barcelona to do my undergraduate thesis project.
I was thrilled to realize that research was so different than learning biology from a textbook — it was all about creativity, ideas, teamwork, and problem solving. I decided to pursue a PhD. But along the way, I often thought about alternative paths. My CV is littered with random things – as examples, an MSc in Science Communication, a stint at the BBC and a dolphin tracking project in the Adriatic.
My first year as a post-doctoral fellow in Andras Nagy's lab was when things became clear to me. It was so exciting. The combination of technology, the amazing people that he brought together, the 'blue sky' ideas. The feeling of unmitigated possibility really left a mark. During my tenure in Andras's lab, I realized it is such an exciting time to be in science. The infiltration of new technologies into mainstream scientific research is incredible. I mean, synthetic biology, AI, machine learning, resolution at the single cell level. I love interdisciplinary science and I love technology.
In my lab, we are looking at the roles of astrocytes in the injured brain and how different types of these cells can be harnessed for brain repair. We are really trying to understand astrocytes on a single cell level. One of the exciting areas of research we are pursuing is the conversion of astrocytes to cells that are lost to an injury, like neurons or oligodendrocytes, the myelinating cells of the brain. This type of direct reprogramming is especially interesting because it can be done entirely in vivo, at the site of injury. Early data suggests that it can improve the functional outcomes of neurological injuries. We want to identify subtypes of astrocytes that might limit recovery and turn them to beneficial cell types. Think of it as a bespoke strategy for brain repair.
The biggest challenge I have faced was trying to start my lab while being a mother to two small children. There are real biological hurdles — being away from a child when you are breastfeeding, hormonal shifts, pregnancy-associated changes in your brain, sleep deprivation. I remember crying in my office many times when I was back from maternity leave. Then there are the moments where you feel like you aren't doing enough. There is a real psychological drain.
The COVID pandemic has amplified these types of challenges, and I think that early career investigators, parents in particular, have a lot to lose if we don't find a way to balance work and personal life. Fortunately, the University of Toronto is full of excellent people – colleagues, students, staff – who have made my road a little less bumpy. My biggest hope is to do the same for my students, to help them achieve a good work-life balance. Science doesn't have to be all-consuming. In fact, before the pandemic, I tried to provide a good example by leaving work three times a week to play lunchtime soccer."