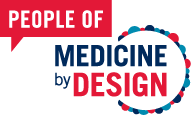 Meet the world-class researchers who are building the future of regenerative medicine. These are the people of Medicine by Design.
"After I finished my bachelor's degree in botany, I apprenticed as a carpenter. But it only took a couple of winters building houses in Alberta for me to reconsider my career path. That's when I went back to graduate school, where I eventually pivoted from botany into molecular biology.
Scientific research isn't as far from carpentry as you might think. I still love building things, and that's exactly what we do in my lab. We work at the intersection of synthetic biology and human health to create biotechnology platforms that can make diagnostic tests and drug manufacturing more portable and affordable. My goal is to increase access to health care, particularly in low- and middle-income countries where well-equipped hospitals and medical laboratories may be few and far between. But we are also using the same lens to advance efforts here in Canada to bring regenerative medicine therapies, which are expected to be very expensive, closer to clinic.
In simple terms, we make enzyme-based systems that are freeze-dried and accordingly can be distributed to the point-of-use without refrigeration, much like a package of instant chicken noodle soup. Unlike some conventional biotechnologies, our systems are also cell-free and so they are biosafe, meaning they can leave the lab because they are not alive. When you need it, you just add water and your DNA program. We have already used it to develop low-cost, portable diagnostic tests for Ebola and Zika viruses, and have now turned our attention to COVID-19. In another embodiment, our system can also be used to make protein-based drugs or lab reagents. It's very affordable and we see great potential in this approach improving researcher access to key lab tools, which is one of the areas where our work intersects with regenerative medicine. Ultimately, we hope to use this approach to improve patient access to protein-based drugs and cell-based therapies, which can be costly and require a constant cold chain for distribution.
As scientists, we don't want our research to sit on the shelf in a journal. We want to translate our discoveries and technologies as quickly and efficiently as possible so they can benefit society. But researchers often face a gap between the research funding we receive from universities and governments and the significant private-sector investments that we need to bring new therapies and technologies to the people who need them. Most of us are not trained to navigate this path, so we have to learn as we go.
Outside the lab, my family is my passion. We spend a lot of time outdoors, hiking, biking and swimming. Since the pandemic began, we've been one big sports camp."