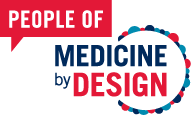 Meet the world-class researchers who are building the future of regenerative medicine. These are the people of Medicine by Design.
"I was born and raised in Toronto and am a product of the University of Toronto. I love this city and this university.
I always dreamed of being a professional soccer player when I was a kid. However, once I realized that making a living being an athlete wasn't going to be in the cards, I turned to more practical goals. I don't know what I would have done if plan B didn't work out — but, fortunately, so far it has been okay.
I have benefited from several great mentors during my career. My two PhD advisors, Ben Blencowe at U of T and Mei Zhen at Sinai Health, have both been an ongoing source of inspiration. They provided lots of encouragement, guidance and a great environment that allowed me to grow as a scientist and kindle my love of academic research.
My lab is interested in understanding how a family of proteins called RNA binding proteins contribute to the differentiation and function of cells of the nervous system. We are gaining a deeper appreciation of how RNA binding proteins play key roles — along with proteins that help turn specific genes on or off, which are called transcription factors — in differentiation, which is the process by which stem cells turn into a specific type of cell. In recent years, we have been using the tiny roundworm C. elegans to pursue our studies, because it has a compact but diverse nervous system.
I think we are living in an incredible time where we continue to make great strides in our ability to understand the mechanisms of how multipotent cells can differentiate to form different cell types. I'm also still astounded that we can make this process essentially go in reverse and generate pluripotent cells from cells that have already matured. I hope that our fundamental work in the area of how gene expression influences cell fate will contribute to a deeper understanding of how organisms can build complex organs like the brain. Ultimately, this knowledge could be used to grow new cells of the nervous system or potentially stimulate neighbouring cells to repair or replace damaged brain cells that result from injury or disease.
A big challenge for me is always deciding on when to jump into a new risky research area versus proceeding with safer, but still fascinating, work. It can sometimes seem a bit daunting to take a risk. Ultimately, it is important to find balance in conducting both high-risk, high-reward research and using more traditional methods in one's research program. Scientific research is chronically underfunded, and we always need to find creative ways to get cutting-edge work done while stretching our budgets. In many ways, Medicine by Design has provided new investigators like me not only with internal funding support, but also opportunities to try and pursue new collaborative areas of research.
Since joining the Medicine by Design community, it's been amazing to witness the marriage of biological engineering and cell and molecular biology, which will generate regenerative medicine's next wave of discoveries and therapeutics.
Although I'm still early in my career, I am most proud of the achievements of my trainees. It has been extremely rewarding to see them discover the joy of conducting scientific research. Being a part of their development as they embark on their own careers has brought me a lot of happiness."
Why Professor Calarco is one of our People of Medicine by Design:
Professor Calarco is a
Medicine by Design Investigator
. He was a co-investigator on a
large team project
focusing on investigating post-transcriptional gene regulatory modules that control stem cell differentiation.