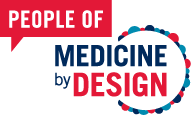 Meet the world-class researchers who are building the future of regenerative medicine. These are the people of Medicine by Design.
"I want people to love science as much as I do. It leverages our curiosity and creativity as we pursue answers to our questions. Any questions. There's beauty in the process and it's also one of the best ways to make an impact on society.
I really enjoy working in regenerative medicine because it has the potential to cure diseases, not just treat their symptoms. It's also such a collaborative discipline that requires expertise from the basic sciences, engineering, computer science and medicine to develop all these promising therapies. My PhD research focuses on growing T cells — an important component of the immune system — from stem cells. T cells can be used to regenerate the immune system after chemotherapy, and engineered to create immunotherapies that identify and kill cancer cells. These therapies are currently made from each patient's own T cells, making them expensive and labour-intensive. By using stem cells to generate universally compatible T cells, I hope to make these groundbreaking treatments available to more patients.
One of the accomplishments I am most proud of is developing one of the foundational technologies for Notch Therapeutics, a startup I had the opportunity to co-found with Drs. Peter Zandstra, Shreya Shukla, Mahmood Mohtashami and my supervisor, J.C. Zúñiga-Pflücker. Being part of Notch has really changed my perspective on research and how it can have a real-world impact.
I have two main ambitions. I want to democratize medicine so all these amazing breakthroughs in regenerative medicine, immunotherapy and synthetic biology are accessible to communities that need them. I also want to inspire a diverse generation of young people to pursue science and entrepreneurship.
After my PhD, I would like to create a company that integrates biotech with gamification and media, to develop therapies but also to make that process transparent and part of our mainstream culture. Canada's biotechnology sector is booming and I want to be a part of it. I already know who my business partner will be: my twin brother Aaron, who earned his MSc at U of T and is currently pursuing a PhD in immunology at Stanford University.
If I could travel back in time 10 years, I would tell myself to learn to code since mathematics and computation are driving advances in regenerative medicine. Science can be all-consuming at times, so I would also tell younger Ashton to make more time for friends and family."