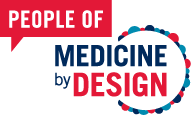 Meet the world-class researchers who are building the future of regenerative medicine. These are the people of Medicine by Design.
"I didn't expect to become a regenerative medicine researcher. My background is in nursing. When I finished my undergraduate degree in Spain, I was working with patients in the hospital, taking care of them. I also met a lot of people through health committees I was involved in, and a person I met told me that I had potential to be a scientist. In Europe, a master's program had just opened to people with three-year degrees, like I had, so he said to me, 'You now have the opportunity to do something you couldn't do before.'
But I wanted to stay in the hospital taking care of patients because I wanted to help people. Soon I realized that I would also be helping people if I pursued science, and if I did it well, I might help hundreds of thousands of people. I decided to try out a master's degree, and I fell in love with the science. I did my master's in Spain in vision science, and then a PhD in my university's Faculty of Medicine that focused on vision and experimental surgery.
When I finished my PhD, I wanted to get some North American experience and improve my background in molecular biology. I knew one professor working in Canada, and I asked him if he knew any researchers I would fit in with. He recommended my current supervisor, Valerie Wallace. I was so interested in her research, I contacted her right away, and it was just a really good fit for both of us — for me, because of Valerie's background in cell and molecular biology, and for her, because of my PhD research in surgery.
I thought I would stay only a couple of years in Canada, but the project just kept going so well that I've been here for five years now. Our lab focuses on cell transplantation to repair damaged retinas. One of the interesting things that happened on our project was that we were using a green protein to inject the retinas, and when we examined the recipient retinas afterwards, we were seeing a green protein, so we thought the cells were integrating. But then we realized that they weren't integrating; they were just transferring the green material over to the recipient retina. Even though this changed the way we were thinking, it actually opened a big door to us to pursue a new question of whether that material transfer could be used therapeutically. It is a very interesting problem to be working on.
I was proud of discovering the materials transfer with my team — I felt like I had accomplished something big. I'm also proud of my resilience. It's not easy to start from zero in another country. To have the motivation to still work every day, even when it's hard, is a big accomplishment for me."