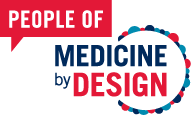 Meet the world-class researchers who are building the future of regenerative medicine. These are the people of Medicine by Design.
"I've been passionate about science for as long as I can remember.  I was born and raised in north Scarborough, on the east side of Toronto. When it came time to start high school, I applied to an enriched STEM program.  I was accepted and for the next four years, I was happily immersed in math and sciences.   
At first it was basic science. But as we got into grade 10, we branched off into biology, chemistry and physics. I didn't know what I wanted my career to be yet, but I liked that I was able to answer a lot of questions about the human body and how health and science impact our lives. 
I heard from friends that McMaster University had a great science program so I applied to attend university there. I loved McMaster. I specialized in chemical biology, which is mostly about how we can use chemistry to solve biological and medical problems. 
In university, I spent time in Dr. Molly Shoichet's lab at U of T through a co-op program. When I graduated, I approached her and was able to secure a position as a research technician.  
I work with many of the lab members now on different projects. For example, I'm working with a PhD student on studying cancer of the lymph nodes. 
I was a co-author on a recently published study that looked at how we could use a material called a hydrogel to mimic the physical tumour microenvironment. With this model, we can examine the invasive behaviour of macrophages — immune system cells that destroy harmful cells such as cancer — and how they infiltrate the tumor site. The benefit of this 3D system is that it's more physiologically relevant and allows us to look closely at the mechanisms of cancer progression and immune cell infiltration in a way we couldn't previously.  
Regenerative medicine has such huge potential to improve health. We have a project in the lab now focused on restoring vision. Just imagine what it's like to lose your sight. It's work like this that makes regenerative medicine so vital.   
Two women scientists have been important to me. Molly Shoichet is a strong advocate for women in science and she's encouraged me to pursue my research interests and supported me in the advocacy and equity work I like to do. And I have really grown because of Dr. Juliet Daniel at McMaster. I did my undergraduate thesis while studying with her. She's a cancer biologist and a Black woman in science. There aren't many in this country, and her story is very inspiring to me. Dr. Daniel was able to mentor me as a Black female scientist and say, "Hey, I know where you're coming from. I know the things that you're feeling and I want to help you successfully navigate academia."  
There's been a push to increase diversity and inclusion in STEM, not just of the Black community, but other underrepresented communities. We're not quite there yet, but I like to see, especially at U of T, that there are so many initiatives that are pushing us in the right direction. 
I've been mentored by such strong women scientists, and I believe it's important for me to give back. So I am acting as a mentor myself in groups like Women in Science and Engineering at U of T and the Black Student Mentorship Program at McMaster.   
I like to work hard, but you also need to have fun. I love exercising. I played volleyball in high school and our team won some provincial medals. Now I play in an intramural league. I am also studying to become a yoga teacher. Additionally, I love sushi and reading, especially books about female empowerment.   
I'm so grateful to Dr. Shoichet and my lab colleagues for the role I have. My next career goal is to become a physician-scientist. This role would enable me to practice the two areas I love – applied research and caring for people's health. My specific interest is in elucidating mechanisms of cancer growth and invasion using biomaterials. My grandmother passed away at 56 from triple negative breast cancer, which is a subtype that disproportionately affects Black women. Hence, studying cancer biology is a story close to my heart. So, I'm hoping to pursue either medical oncology or surgical oncology in the future. I am excited to start my career and eventually make an impact like the brilliant scientists who have taught me."