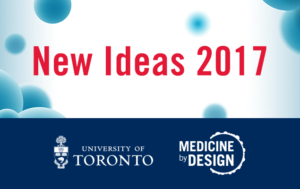 Mikko Taipale studies how cells talk to each other and how those interactions go awry in rare diseases.
Thanks to a 2017 Medicine by Design New Ideas Award, Taipale, an assistant professor at the University of Toronto's Donnelly Centre for Cellular and Biomolecular Research and in the Department of Molecular Genetics, is applying his expertise to a new field: regenerative medicine. Using a novel platform he has developed with Donnelly colleague Jason Moffat to analyze the proteins cells secrete and identify the receptors on other cells that receive those chemical signals, he hopes to shed more light on how stem cells communicate with each other, surrounding cells and their environment.
"You learn much more about people if you know who they interact with and who they go to work with, rather than just getting their vital statistics," said Taipale, who also holds the Canada Research Chair in Functional Proteomics and Proteostasis. "In a similar way, we want to understand how the cell works based on the associations the proteins make, rather than just the proteins themselves."
The insights his team gleans could eventually lead to new therapies and bioengineering applications by deepening understanding of some of the fundamental mechanisms of stem cell biology, including cell differentiation — the process by which a stem cell turns into a specialized cell, such as a liver cell or a heart muscle cell — and tissue repair.
Taipale's project is one of six across U of T and its affiliated hospitals that are sharing a total of $1.2 million in New Ideas funding. The New Ideas Awards — one of four categories of funding from Medicine by Design — are aimed at accelerating fundamental discoveries that could have a potentially significant impact on stem cell and regenerative medicine research and translation. The focus of this year's awards is new tools, reagents and devices, including novel biomaterials, strategies to deliver cell-based therapies and synthetic biology tools.
Other funded projects include:
The projects, which will each receive $100,000 per year for two years, were selected through a competitive, peer-reviewed process. More than 45 teams submitted expressions of interest and nearly half of those were short-listed to submit full applications.
"The novel approaches and diverse teams we are supporting through these awards demonstrate the incredible innovation and collaboration in our community," said Peter Zandstra, executive director of Medicine by Design and a University Professor at the Institute of Biomaterials & Biomedical Engineering. "Through this program, we are championing new ideas at a critical early stage, opening the door to what could be game-changing advances in both our understanding of regenerative medicine and how we treat many debilitating diseases."
Medicine by Design is also investing almost $600,000 in the next generation of regenerative medicine researchers by supporting four post-doctoral fellows, whose projects range from immunotherapy approaches to lung cancer to creating synthetic gene circuits that could provide crucial information about how stem cells turn into more specialized cells.
Carol Schuurmans is using her New Ideas Award to investigate whether a focused ultrasound technique pioneered at Sunnybrook Health Sciences Centre and currently in early-stage clinical trials to treat Alzheimer's disease and brain tumours could also be used to reverse blindness caused by degeneration of the retina.
Schuurmans' collaborators — Kullervo Hynynen, director of physical sciences at Sunnybrook Research Institute, and Isabelle Aubert, a senior scientist who leads Sunnybrook's Brain Repair Group — have already shown that magnetic resonance imaging (MRI)-guided focused ultrasound can temporarily open the blood-brain barrier, a membrane that protects the brain from toxins in the bloodstream, but also keeps out drugs and other potential therapies. They accomplished this by injecting microbubbles into the bloodstream and applying highly focused ultrasound beams to the target area. The ultrasound causes the microbubbles to vibrate, loosening the connections between cells in the blood-brain barrier and potentially creating gaps through which therapies can be delivered.
Schuurmans, a senior scientist and Dixon Family Chair in Ophthalmology at Sunnybrook Research Institute, wants to test if this same technique can be used to open the blood-retinal barrier to develop non-invasive therapies for diseases such as age-related macular degeneration, which is currently treated with injections directly into the eye. As a first step, she wants to see if simply opening the barrier will produce transient improvements, as Hynynen and Aubert have observed in their Alzheimer's research. She also sees potential for delivering a variety of therapies that could regenerate or repair damaged retinas, including mesenchymal stem cells and a line of retinal progenitor cells she has derived from hair follicles from the face.
"It could have a lot of impacts because it's not only possibly a method of delivering cells, but it's also a method of delivering gene therapy, or a method of delivering even drugs," Schuurmans said.
Schuurmans said her collaborators and the cutting-edge work they are doing are key to the project. "Without being here at Sunnybrook, I wouldn't be doing these experiments," she said. "It really takes a team. This is not a one-person project."
Taipale also praised the openness of Toronto's research community. "One of the things I really like about Toronto is the collaborative environment here," he said. "I am excited to apply my research to a new field and make new connections."
Medicine by Design brings together leading researchers in regenerative medicine and cell therapy at the University of Toronto and affiliated hospitals to generate paradigm-shifting discoveries and accelerate translation, commercialization and clinical impacts. Supported in part by a grant from the Canada First Research Excellence Fund, Medicine by Design collaborates with academic partners, commercialization entities and the private sector to advance treatments for patients with chronic diseases and create economic growth.
Information about the 2018 New Ideas Awards will be available in late 2017. Medicine by Design also funds Team Project Awards, Post-Doctoral Fellowship Awards and Clinical Translation and Commercialization Awards.