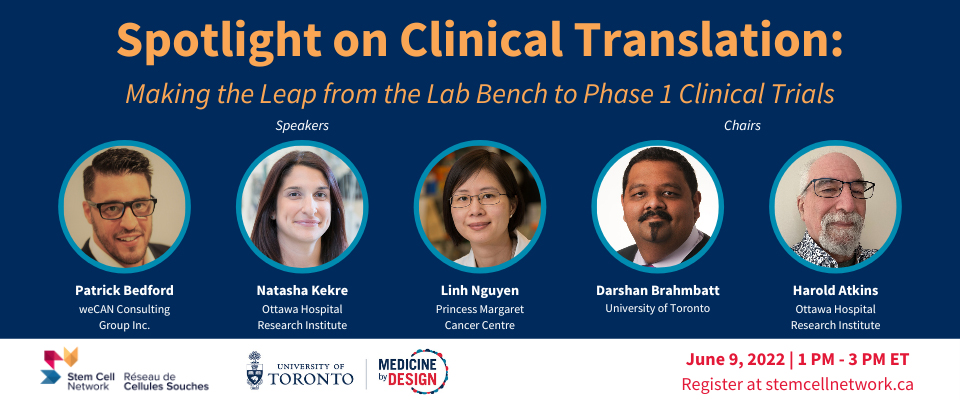 Join us for Spotlight on Clinical Translation: Making the leap from the lab bench to Phase I Clinical Trials, hosted by The Stem Cell Network and Medicine by Design.
This workshop will provide investigators and trainees with a basic understanding of the clinical pipeline, from essential pre-clinical studies to Phase I first in human trials. The invited speakers will review processes involved in clinical trial submission, regulatory approval and product manufacturing. An interactive Q&A session will ensure participants can ask questions relevant to their research along with leveraging this opportunity to connect with clinical trial experts.
Clinical studies are a key element on the pathway of translational cell and gene therapies. It is, therefore, essential that principal investigators, researchers, trainees, clinical research fellows and ecosystem partners working in Canada undertaking translational research have a thorough understanding of the clinical trial pipeline; focused specifically on the early phase clinical trial design processes.
Registration deadline:
Attendance at this event is limited; all those interested in participating must register by June 8, 2022, at 11:59 PM local time.
1:00-1:05 pm ET – Opening Remarks
Moderators: Harold Atkins and Darshan Brahmbhatt
1:05-1:40 pm ET – Presentation by Natasha Kekre, MD, Hematologist, The Ottawa Hospital Transplant and Cellular Therapy Program, and Scientist, Ottawa Hospital Research Institute
Presentation title: Building the pre-CTA and CTA package for Phase I trials: Case study using CLIC CAR-T trial for relapsed/refractory CD19 positive hematologic malignancies
1:45-2:10 pm ET – Presentation by Patrick Bedford, MSc, Managing Director, weCANreg Consulting Group Inc.
Presentation title: Leveraging a regulatory rerspective on your path to trials
2:15-2:40 pm ET – Presentation by Linh Nguyen, PhD, Staff Scientist/Head, Cell Manufacturing Team, Tumor Immunotherapy Program, Princess Margaret Cancer Centre
Presentation title: Developing a cell manufacturing process for an early phase clinical trial
2:40-2:45 pm ET – Break
2:45-3:00 pm ET – General Discussion/Q&A session
3:00 pm ET – Closing Remarks
SPEAKERS
Patrick Bedford, MSc – Managing Director, weCANreg Consulting Group Inc.
Patrick Bedford is an experienced and certified regulatory professional who is focused on facilitating global regenerative medicine development. He founded & operates weCANreg Consulting Group Inc., which provides regulatory strategy, interaction, and submission services. Furthermore, Patrick is VP of Regulatory & Development at Artisan Bio, which is a CRISPR-enabled multiplex cell engineering company making precision immunotherapies. In his spare time, he remains an active educator and contributor to regulatory policy development.
Prior to incorporating his own company and leading regulatory strategy at Artisan Bio, Patrick developed regulatory consulting services for a regenerative medicine Network Centre of Excellence; planned 2 Canadian CAR-T New Drug Submissions; and led teams at Health Canada responsible for developing guidance for biosimilars, transplant material, and cell & gene therapies. While leading these policy initiatives at Health Canada, Patrick also supported their Therapeutic Products Classification Committee; chaired the Cells, Tissues, and Organs Classification Committee; and championed international harmonization initiatives.
Patrick completed an Honours Bachelor of Health Sciences degree at the University of Western Ontario, a Master's degree in Bioethics and Health Law at the University of Otago, a Regulatory Affairs Certificate from the Regulatory Affairs Professional Society, and is pursuing his MBA at the Jack Welch Management Institute.
Natasha Kekre, MD – Hematologist, The Ottawa Hospital Transplant and Cellular Therapy Program, and Scientist, Ottawa Hospital Research Institute

Dr. Natasha Kekre has been appointed to the Department of Medicine in the Division of Hematology, within the Transplant and Cellular Therapy Program at The Ottawa Hospital, effective October 2015. She is also an associate scientist within the Ottawa Hospital Research Institute and an associate professor of medicine at the University of Ottawa. She completed her Bachelor's in Science at the University of Windsor then obtained her medical degree from the University of Ottawa. She then trained at the University of Ottawa in Internal Medicine and Hematology. She went on to do a fellowship in stem cell transplantation at Dana Farber Cancer Institute in Boston, MA with a Masters in Public Health from Harvard University.
Her research is focused on developing early phase clinical trials and moving home grown therapeutic strategies into patients. She collaborates with a number of local investigators and scientists in Ottawa, studying hematologic malignancies and blood and marrow transplant recipients more specifically. She collaborates with scientists and physicians across Canada to build a Canadian CAR-T cell platform (chimeric antigen receptor T cells are immune cells engineered to kill cancer cells), bringing this exciting new therapy to Canadian patients. Her other clinical research interests include improving transplant related outcomes and projects with an epidemiologic focus, including but not limited to decision modeling and meta-analyses.
She also participates with a number of cooperative groups in North America including the Center for International Blood and Marrow Transplant Research, the Canadian Blood and Marrow Transplant Group, the American Society of Hematology and the American Society for Transplant and Cellular Therapy.
Linh Nguyen, PhD – Staff Scientist/Head, Cell Manufacturing Team, Tumor Immunotherapy Program, Princess Margaret Cancer Centre
Dr. Linh Nguyen has led the Cell Manufacturing Team of the Tumor Immunotherapy Program at the Princess Margaret Cancer Centre since 2005. Dr. Nguyen obtained her PhD in Immunology at the University of Toronto and pursued postdoctoral studies at Harvard Medical School. Her interests include tumor immunology and immunotherapy. Her team has manufactured cell and gene therapy products for clinical trials such as tumor-infiltrating lymphocytes (TILs), dendritic cells and T cell receptor gene-engineered T cells. The team's activities also include quality assurance, quality control, and preparation of regulatory submissions.
CHAIR
Harold Atkins, MD – Attending Physician, The Ottawa Hospital Transplant and Cell Therapy Program, and Scientist, Ottawa Hospital Research Institute
Dr. Harry Atkins is a physician of The Ottawa Hospital Transplant and Cell Therapy Program, an Associate Professor of Medicine at the University of Ottawa, and a scientist in the Ottawa Hospital Research Institute's Center for Innovative Cancer Research.
He received his Bachelor of Medical Science degree and Medical Degree from the University of Ottawa followed by a rotating internship year at the Victoria General Hospital in Victoria BC. Specialty training in Internal Medicine was done at the University of Ottawa. Clinical and research fellowships in Hematology, Stem Cell Transplantation and Experimental Hematology followed at the University of Washington and at the Ontario Cancer Institute.
He specializes in hematopoietic stem cell transplantation and has spearheaded the use of stem cell transplantation for immune repair to treat patients with severe autoimmune diseases including multiple sclerosis, scleroderma, myasthenia gravis and others. The outcome of a trial using autologous hematopoietic stem cell transplantation to treat multiple sclerosis was published in the Lancet in 2016. He ran a clinical trial exploring the role of hematopoietic stem cell transplantation in preventing organ transplant rejection. He is a member of a BiocanRx funded, pan-Canadian consortium to develop and improve the accessibility of new chimeric antigen receptor T lymphocytes for the treatment of hematological cancers. He was awarded the OHRI's Dr. Michel Chretien Researcher of the Year in 2016, the Till and McCulloch Award from the Stem Cell Network in 2017 and was the co-recipient of the Canadian Blood Services Lifetime Achievement Award in 2019.
Darshan H. Brahmbhatt – MA MB BChir MPhil MRCS MRCP CCDS, Ted Rogers Centre for Heart Function and Ajmera Transplant Centre, University of Toronto
Dr. Darshan H. Brahmbhatt is a cardiologist who joined the UoT & TGH HF/Transplant team as a clinical fellow from London, UK in October 2019, having completed his doctoral research at the Royal Brompton Hospital and heart failure/device implantation training before that at Royal Papworth Hospital, Cambridge.  His research focusses on implementation of remote monitoring and digital health solutions to assist clinicians make better decisions in managing patients with heart failure. He is currently supported by TRANSFORM-HF in his post-doctoral studies.