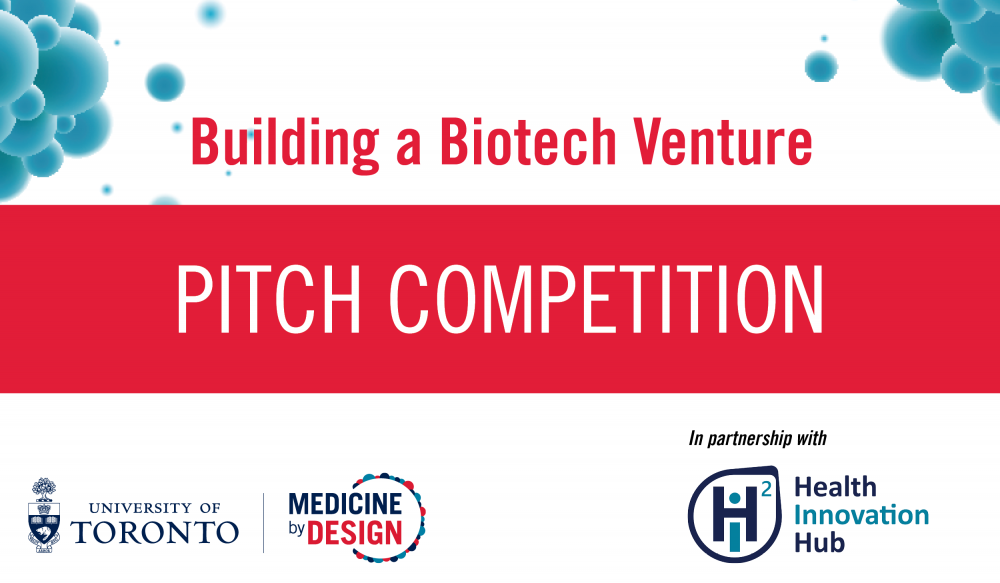 Learn how the next generation of regenerative medicine researchers at the University of Toronto and its affiliated hospitals are preparing to translate their discoveries toward impact. At the Building a Biotech Venture Pitch Competition, six trainee-led teams will pitch their regenerative medicine-related products or ventures to an expert panel of judges and compete for up to $25,000 in research funding.
The competition is the culmination of Medicine by Design's Building a Biotech Venture program, offered in partnership with H2i. Over the past three months, the program has offered workshops and mentoring to help teams advance company or product concepts based on their regenerative medicine research. The teams with the highest potential for company creation have been selected to take part in the pitch competition.
Meet the judges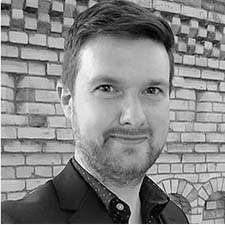 Mike Cooke, PhD, is the Co-Founder & CEO of AmacaThera. AmacaThera is a Toronto-based biotechnology company focused on developing and commercializing a unique, injectable hydrogel platform technology for a wide range of medical applications. Mike co-founded the company along with renowned biomaterials scientist, Molly Shoichet. Mike co-developed the first product for AmacaThera, a sustained analgesic for post-operative pain, which he pitched to both UTEST and OBIO and secured dilutive and non-dilutive seed investment. Mike has secured over C$12MM in venture capital financing for AmacaThera. Mike completed his PhD at Durham University (UK) and a post-doctoral fellowship in the Shoichet Lab at the University of Toronto. Mike is currently pursuing a Global Professional Master of Laws (GPLLM) in Business Law at the University of Toronto.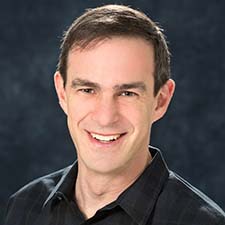 Avi Goldfarb, PhD, is the Rotman Chair in Artificial Intelligence and Healthcare, and Professor of Marketing, at the Rotman School of Management, University of Toronto. Avi is also Chief Data Scientist at the Creative Destruction Lab where he manages the health stream, Senior Editor at Marketing Science, and a Research Associate at the National Bureau of Economic Research. He has published over 80 academic articles in a variety of outlets in marketing, statistics, law, management, refugee studies, medicine, computing, and economics. Along with Ajay Agrawal and Joshua Gans, Avi is the author of the book Prediction Machines: The Simple Economics of Artificial Intelligence and editor of the NBER book The Economics of Artificial Intelligence: An Agenda. Avi received his PhD in economics from Northwestern University.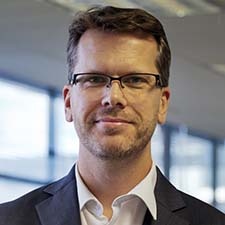 Robin Quirk, PhD, MBA is the Director of Technology Sourcing and Venture Development at CCRM. Robin has over 20 years of experience working with regenerative medicine start-up companies. He started his career as an industry-trained pharmacist before moving into tissue engineering research. Robin joined CCRM to support the commercial development of early-stage ideas. He leads the team responsible for identifying and developing promising technologies and nurturing them to the company creation stage by strategically leveraging CCRM's expertise and infrastructure.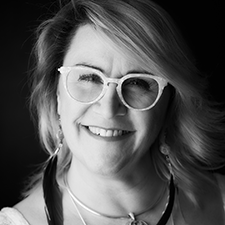 Andrea Sampson is Co-Founder & Executive Speaker Coach at Talk Boutique. She is a former Strategist and Consultant and has spent over 25 years working in marketing and advertising, presenting and developing strategies for Fortune 100 companies. With a natural talent for developing compelling stories and persuasive content, Andrea is sought after in assisting teams and executives develop their presentations or pitches. Four years ago, Andrea's passion for ideas led her to TEDxToronto where she volunteered initially as a Speaker Coach, then as the Director of Programming in 2015 and the Conference Co-Chair in 2016. This voluntary role was instrumental in the creation of Talk Boutique, a speaker management, development and representation company. Andrea was the Co-Director of the 2017 Singularity University Canada Summit.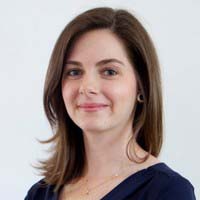 Emily Titus, PhD, is Vice President, Process Sciences at Notch Therapeutics. Previously, she was Vice President, Technology Advancement at CCRM, where she built cell reprogramming, genome engineering, and pluripotent stem cell differentiation programs and led the formation of Notch Therapeutics as part of CCRM's company incubation program. Emily earned a PhD from the Institute of Biomedical Engineering at the University of Toronto, where she used a combination of laboratory and bioinformatics approaches to define and interpret gene regulatory networks controlling embryonic stem cell fate decisions.
Meet the teams
Dandelion Biologics
Dandelion Biologics provides an advanced antibody development platform for challenging therapeutic targets.
HDAX Therapeutics
HDAX Therapeutics focuses on developing epigenetic-targeting treatments through designing and synthesizing the next generation of life-improving medicines to tackle unmet healthcare needs in cancer and central nervous system disorders.

Laetech
Laetech harnesses the regenerative capacity of fat to improve the clinical outcomes of cosmetic and reconstructive surgical procedures.

LifeScreen
LifeScreen is developing a new approach to personal wellness using biological age.
MyoThera
MyoThera identifies therapeutic targets to boost the impaired regenerative capacity of skeletal muscle in Duchenne muscular dystrophy patients.
PancraTECH
PancraTECH is using stem cells to generate a cellular therapy for patients with type 1 diabetes.