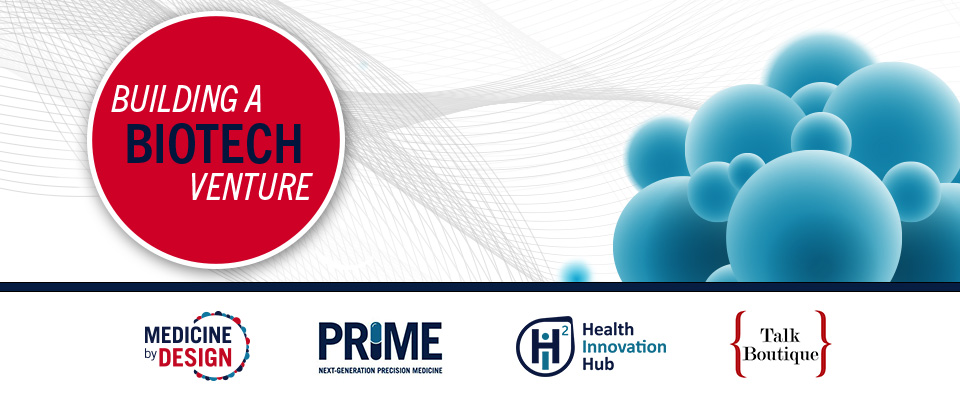 Join us on November 3 for an information session to learn about the Building a Biotech Venture Program.
Take your first steps toward entrepreneurship with the Building a Biotech Venture program, a program for trainees who are doing regenerative medicine- or precision medicine-related research in labs at the University of Toronto or its affiliated hospitals.
Medicine by Design is offering this program in partnership with Precision Medicine Initiative (PRiME) as well as our foundational partners the Health Innovation Hub (H2i), a campus-linked accelerator at the Temerty Faculty of Medicine; and Talk Boutique.
Through a series of workshops over winter/spring 2023, teams will
-Learn how to think about their research in terms of a product or business;
-Build a business canvas and develop their product or venture concept;
-Receive guidance from industry experts on intellectual property, clinical translation, and early-stage stage investment.
-Create a pitch deck and receive coaching on telling their venture story; and
-Receive regular mentoring from entrepreneurs throughout the process.
The program will culminate in a pitch competition in April 2023, where the first-place team will receive $25,000 in research funding to advance their product concept.

Program Information Session and Networking
November 3, 3 p.m. to 4:30 p.m.
The information session will provide an overview of the program and an introduction to H2i's 10-point plan, which outlines 10 key elements of a business canvas. Completing a business canvas is a component of the program application. The session will be followed by networking where you can meet like-minded trainees to form your team.
Building a Biotech Venture program breakdown:

The Building a Biotech Venture Program occurs in two phases:
Venture Development (January-March 2022)– Ten teams will develop their ventures with guidance and training through mentorship and workshop programing. Workshops will be run by industry experts to help in scaling their ventures and prepare them for the pitch competition.
Workshop 1: Mentor introduction event (January)
Workshop 2: Intellectual property (January)
Workshop 3: Clinical translation and regulatory affairs (February)
Workshop 4: Early-stage investment (February)
Workshop 5: Pitching and presentation skills workshop (March)
Pitch Competition – Teams will receive pitch coaching, and compete in a pitch competition to a panel of industry experts. Teams accepted into the Venture Development phase of the program are eligible to participate in the Pitch Development phase but will need to submit a separate application once it opens in late February. Select teams will pitch for a chance to receive $25,000 in research funding.