The Medicine by Design Global Speaker Series invites established and emerging international leaders in regenerative medicine to engage with our extraordinary community of researchers and clinicians.
Medicine by Design, in partnership with the McEwen Stem Cell Institute, is pleased to welcome Wilson Wong, PhD, Associate Professor in the Department of Biomedical Engineering at Boston University.
The title of this talk will be, Mammalian Cell Design Using Synthetic Biology
Register for this virtual event.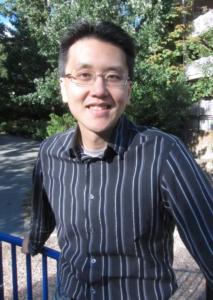 More About WILSON WONG:
Wilson Wong is an Associate Professor in the Biomedical Engineering Department at Boston University, and a core member of the BU Biological Design Center. His lab is focused on developing synthetic biology tools in mammalian systems for cell-based immunotherapy. He received his B.S. degree in Chemical Engineering from UC Berkeley and a Ph.D. degree in Chemical Engineering from UCLA under the guidance from Dr. James Liao. He did his postdoctoral work with Dr. Wendell Lim and Arthur Weiss at UCSF. He is the recipient of the NIH Director's New Innovator and NSF CAREER Award.