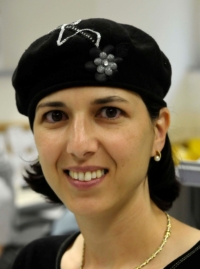 The Medicine by Design Global Speaker Series invites established and emerging international leaders in regenerative medicine to engage with our extraordinary community of researchers and clinicians.
Medicine by Design, in partnership with the Ontario Institute for Regenerative Medicine, is pleased to welcome Shulamit Levenberg, PhD, Dean of the Faculty of Biomedical Engineering at Technion-Israel Institute of Technology and the inaugural Medicine by Design Scholar in Residence. The title of her talk is "Vascularization Dynamics in Engineered Tissues."
Biography
Professor Shulamit Levenberg is the elected Dean of the Biomedical Engineering Department at the Technion. She also serves as the director of the Technion Center for 3D Bioprinting and The Rina & Avner Schneur Center for Diabetes Research. Professor Levenberg earned her PhD at the Weizmann Institute of Science, where she focused on cell adhesion dynamics and signaling, and pursued her post-doctoral research in tissue engineering at MIT, in the lab of Professor Robert Langer. In 2004, she joined the Technion Faculty of Biomedical Engineering where she conducts interdisciplinary research on stem cells and tissue engineering. She spent a sabbatical year (2011-2012) as a visiting professor at the Wyss Institute for Biology Inspired Engineering at Harvard University and a summer sabbatical (2017) at the University of Western Australia as a winner of the Raine Visiting Professor Award. Professor Levenberg received the Krill Prize for excellence in scientific research, awarded by the Wolf Foundation, and was named by Scientific American as a "Research Leader" in tissue engineering, for her seminal work on vascularization of engineered tissues. She also received the France-Israel Foundation Prize, the Italian Excellence for Israel Prize, the Teva Research Prize and the Juludan Prize. In 2018, she received the Rappaport Prize for Biomedical Sciences. Professor Levenberg has authored more than 100 publications, and presented her work in over 100 international conferences as an invited or keynote speaker. She is founder and chief scientific officer of two start-up companies in the areas of cultured meat and nanoliter arrays for rapid antimicrobial susceptibility testing.  She is a member of the Israel National Counsel for Bioethics and is actively involved in training young scientists.