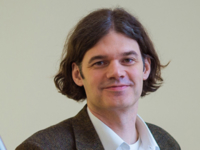 The Medicine by Design Global Speaker Series invites established and emerging international leaders in regenerative medicine to engage with our extraordinary community of researchers and clinicians.
Medicine by Design, in partnership with the Ontario Institute for Regenerative Medicine, is pleased to welcome Peter Reddien, PhD, a professor in the Department of Biology at the Massachusetts Institute of Technology. He will give a talk titled, "The essential components of regeneration."
This event will be livestreamed (link will be live shortly before event)
Talk Abstract
How animals regenerate missing body parts is one of the great mysteries of biology. Planarians are flatworms capable of some of the most dramatic known feats of animal regeneration, including regeneration of new heads. We have uncovered a key set of minimal components and concepts needed to explain how these animals accomplish their regenerative feats.
Biography