The Medicine by Design Global Speaker Series invites established and emerging international leaders in regenerative medicine to engage with our extraordinary community of researchers and clinicians.
Medicine by Design, in partnership with the McEwen Stem Cell Institute, is pleased to welcome Qizhi Tang, PhD. Professor Tang is a professor of surgery in the Division of Transplant Surgery and director, Transplantation Research Laboratory from the University of California, San Francisco. Learn more about the Tang lab.
This event will be held in person at the Terrence Donnelly Centre for Cellular & Biomolecular Research, Red Room.
Talk title: Helping pancreatic beta cells survive after transplant
About Qizhi Tang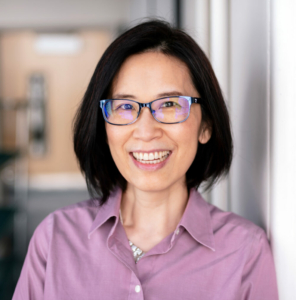 Dr. Qizhi Tang is a professor of immunology in the UCSF Diabetes Center, the Department of Surgery, the Gladstone Institute of Genomic Immunology, and the Institute of Regenerative Medicine at the University of California, San Francisco (UCSF). She studied medicine at Peking Union Medical College. After a 6-month research internship during year 5 of the 8-year MD program, she left the program to pursue graduate study in the US. She studied viral immunology at the University of Illinois in Chicago for her PhD. For her postdoctoral fellowship, she studied cellular and molecular mechanisms of immune tolerance under the tutelage of Jeffrey bluestone, first at the University Chicago and then at UCSF. She served as the director of the UCSF Transplantation Research Lab for 14 years from 2007 to 2021. She is currently the director of the Northern California JDRF Center of Excellence.
One major research focus in the Tang Lab has been on investigating regulatory T cell control of autoimmune diabetes and transplant rejection. In the past 10 years, she has led translational efforts to design and implement 10 Treg-based clinical trials in autoimmune diseases and organ transplantation. Currently, pre-clinical research in her lab focuses on developing cellular engineering strategies to enhance human Treg potency and stability. Another area of research in the Tang lab is to optimize beta cell replacement therapy for type 1 diabetes by improving islet survival in ischemia and designing strategies to avoid immune rejection without systemic immunosuppression.
Talk abstract
Pancreatic beta cell replacement therapy has the potential to cure type 1 diabetes by replacing lost beta cells.  The therapy is limited by the poor survival of the transplanted cells and the need for life-long immunosuppression.  The presentation will describe ongoing efforts to tackle these challenges using cell engineering strategies.