The Medicine by Design Global Speaker Series invites established and emerging international leaders in regenerative medicine to engage with our extraordinary community of researchers and clinicians.
Join speaker Claudia Fischbach-Teschl,  Professor, Biomedical Engineering, Cornell University, Director of Cornell's Physical Sciences Oncology Center (PSOC) on the Physics of Cancer Metabolism, and Associate Director of Cornell Nanoscale Science and Engineering Facility (CNF). Read more about Professor Fischbach-Teschl.
Hosted by Medicine by Design, in partnership with the McEwen Stem Cell Institute.
Talk title: Physical sciences approaches to analyze tumor-associated ECM dynamics.
About Claudia Fischbach-Teschl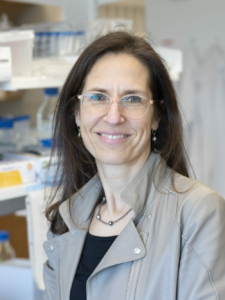 Claudia Fischbach-Teschl is the Stanley Bryer 1946 Professor of Biomedical Engineering at Cornell University and Associate Director of Cornell Nanoscale Science and Engineering Facility (CNF). She received her Ph.D. in Pharmaceutical Technology from the University of Regensburg, Germany and conducted her postdoctoral work at Harvard University in the Division of Engineering and Applied Sciences. Her lab utilizes engineering tools and strategies to gain a better understanding of how tumor-microenvironment interactions regulate cancer development, progression, and therapy resistance with a focus on cell-ECM interactions. She is a fellow of the American Institute for Medical and Biological Engineering (AIMBE), the Biomedical Engineering Society, and the Alexander von Humboldt Foundation in Germany. She is the recipient of the Momentum Mid-Career Award by the Cellular and Molecular Bioengineering Special Interest Group of the Biomedical Engineering Society (BMES) and the inaugural awardee of a Rosalind Franklin Award by the Max Planck Centre for Physics in Medicine in Germany. She is a Senior Editor of Cancer Research, and serves on the Editorial Board of the ACS journal Biomaterials Science and Engineering and Tissue Engineering. She is an advocate for interdisciplinary cancer research and has written Op-Ed articles on this topic including in Scientific American. 
Talk abstract
Microenvironmental conditions contribute to the pathogenesis of cancer and include altered cellular composition, extracellular matrix (ECM) deposition, and mechanical cues. However, our understanding of the specific mechanisms by which these microenvironmental perturbations impact the development, progression, and therapy response of cancer is relatively limited. More intricate models are needed to better understand the complex biochemical and biophysical interactions that drive tumor initiation, growth, metastasis, metabolic adaptation, and immune evasion. The fields of biomaterials and tissue engineering provide increasingly sophisticated tools and strategies to recapitulate and monitor relevant properties of tumor-microenvironment interactions. These approaches not only bear tremendous potential to advance our current understanding of cancer, but are also increasingly explored for more clinically relevant drug testing. Indeed, combining patient-specific cells with engineered culture systems promises to enhance the predictive power of precision medicine pipelines. This talk will highlight specific examples of how the microenvironment regulates the highly dynamic nature of cancer and will outline opportunities and challenges of the field of tumor engineering. 
This event will be held in-person only at the Terrence Donnelly Centre for Cellular & Biomolecular Research, Red Room.