The Medicine by Design Global Speaker Series invites established and emerging international leaders in regenerative medicine to engage with our extraordinary community of researchers and clinicians.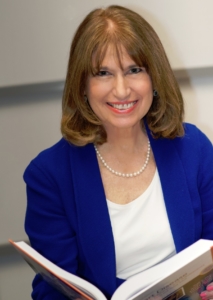 Medicine by Design, in partnership with the Ontario Institute for Regenerative Medicine, is pleased to welcome Marlene Rabinovitch, MD, the Dwight and Vera Dunlevie Professor in Pediatric Cardiology at Stanford University. She will give a talk titled, "Impact of shear stress on chromatin accessibility and gene regulation."
This talk will be be live streamed
Talk Abstract
It is well known that laminar shear stress as opposed to static or disturbed flow induces vasculoprotective endothelial (EC) genes such as endothelial nitric oxide synthase (eNOS), but how changes in flow affect chromatin accessibility at specific transcription factor binding sites is not known. We used the Ibidi flow system with cultured pulmonary arterial (PA) EC and applied ATAC Seq, ChIPSeq and RNA Seq to determine why certain regions of chromatin open and others close to regulate a distinct program of gene expression. We determined by mass spectrometry and proximity ligation analysis that KLF4 interacts with the Brg complex of chromatin remodelers under laminar flow to regulate genes that protect endothelial cells and that ATF2 interacts with the Brg complex of chromatin remodelers under static or disturbed flow, to regulate genes that can perturb endothelial function and lead to a pro-inflammatory milieu. We harvested EC from patients with pulmonary arterial hypertension (PAH) associated with a congenital heart defect but could not observe a phenotype that distinguished these from control EC under static or laminar flow conditions.  Based upon computer modeling of a congenital heart defect with PAH, we subjected the EC to high shear, 100 or 170 dynes cm2.  In both cases we saw evidence of high eNOS and eNOS un-coupling resulting in an increase in reactive oxygen species (ROS). RNA sequencing revealed increased cholesterol biosynthesis and activation of GTPase that can alter caveoli and result in eNOS uncoupling, ROS production and perturbation of normal endothelial cell function.
Biography
Dr. Rabinovitch is the Dwight and Vera Dunlevie Professor in Pediatric Cardiology, at Stanford University School of Medicine. Dr. Rabinovitch graduated from McGill University Medical School and completed her pediatrics training at the University of Colorado and sub-specialty training in cardiology at Boston Children's Hospital, Harvard Medical School, where she was Assistant Professor. She then became Professor of Pediatrics, Laboratory Medicine and Pathobiology and Medicine at the University of Toronto, Director of the Cardiovascular Research Program at the Hospital for Sick Children and the Robert M. Freedom/Heart and Stroke Foundation Chair.
Dr. Rabinovitch has received numerous awards for her research and mentoring. These include:
2017: the American Heart Association Distinguished Scientist Lecturer;
2016: the prestigious J. Burns Amberson Lectureship from the American Thoracic Society, and the Robert F. Grover Prize from the Assembly on Pulmonary Circulation;
2015: Mentorship Awards from the Association for Women in Science and the Stanford Department of Pediatrics;
2012: the Judith Pool Mentorship Award;
2010: the Louis and Artur Lucian Award for Research in Circulatory Diseases from McGill University:
2008: the Recognition Award for Scientific Accomplishment from ATS;
2006: the American Heart Association's (AHA) Distinguished Scientist Award;
2004: AHA's Basic Research Prize, and the Canadian Institute of Circulatory and Respiratory Health Lectureship and Prize; and
2003: the Gill Heart Institute Award for Outstanding Contributions to Cardiovascular Research.
She has given numerous named lectureships, including the AHA Paul Dudley White and Dickinson Richards Lectures, as well as the American Physiological Society Julius Comroe Lecture. She has served as Visiting Professor in many countries worldwide and has over 190 peer-reviewed publications and 124 invited reviews and book chapters.
Dr. Rabinovitch is currently the Director of the Basic Science and Engineering Initiative of the Betty Irene Moore Children's Heart Center at Stanford University. In addition, she is the Associate Director in Basic Research at Stanford's Cardiovascular Institute and on the Executive Committee of the Pulmonary Vascular Research Institute. She has recently served as an External Advisor to the NHLBI Lung Regeneration Program, the Max Planck Institute for Heart and Lung Research and the German Lung Centers of Excellence, and has also served on the Scientific Advisory Councils of NHLBI as well as numerous other Research Foundations. She is a member of the American Society for Clinical Investigation, and the Association of American Physicians, and has been Associate Editor of Circulation Research and Annual Reviews of Physiology. Her research focuses on uncovering fundamental genetic, metabolic, and inflammatory mechanisms causing pulmonary hypertension that can be translated to the clinic.