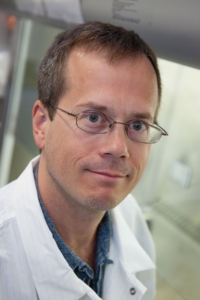 The Medicine by Design Global Speaker Series invites established and emerging international leaders in regenerative medicine to engage with our extraordinary community of researchers and clinicians.
Medicine by Design, in partnership with the Ontario Institute for Regenerative Medicine, is pleased to welcome James Wells, PhD, director for research, Division of Endocrinology, and chief scientific officer, Center for Stem Cell and Organoid Medicine (CuSTOM) at the Cincinnati Children's Hospital Medical Centre, and a professor in the Department of Pediatrics at the University of Cincinnati. He will give a talk titled, "Using human pluripotent stem cells to study development, diabetes and digestive disease."
Biography
Dr. Wells is an endowed professor of Pediatrics at the Cincinnati Children's Hospital Medical Center. He is in the Division of Developmental Biology, is the Director for Basic Research in the Division of Endocrinology and was appointed Chief Scientific Officer of the Center for Stem Cell and Organoid Medicine.
Dr. Wells' research focuses on the processes by which gastrointestinal and endocrine organs form in the developing embryo and how they maintain systemic metabolic homeostasis postnatally. This work in developmental biology has provided the basis for the efforts to generate human cells and tissues from pluripotent stem cells. His lab pioneered approaches to generate gastrointestinal (GI) tissue organoids of the stomach, intestine, and colon from human pluripotent stem cells. Human organoids and mouse models are being used in the lab to study endocrine control of digestion and metabolism, congenital defects of the digestive tract, and enteric pathogens. In addition, Dr. Wells and his colleagues are using organoids as a basis for tissue engineering efforts to generate functional tissues for transplantation.
Learn more about James Wells