The Medicine by Design Global Speaker Series invites established and emerging international leaders in regenerative medicine to engage with our extraordinary community of researchers and clinicians.
Medicine by Design, in partnership with the McEwen Stem Cell Institute, is pleased to welcome Elmar Jaeckel, MD, Medical Director at the Liver Transplant Program, Ajmera Transplant Centre at the University Health Network.
The title of this talk will be, Tissue-specific tolerance by genetically modified regulatory T cells enables endogenous regeneration.
Register for this virtual event.
More About elmar jaeckel: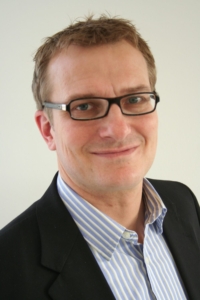 Dr. Elmar Jaeckel is a trained gastroenterologist/hepatologist as well as endocrinologist/diabetologist and transplantation specialist. He is Medical Director of the Liver Transplant Program at the Transplant Centre, University Health Network. Dr. Jaeckel studied medicine at University of Hamburg, Yale University New Haven, University of California San Diego, University of Edinburgh and University of Sydney. He completed his medical training at the Hannover Medical School (MHH). He studied medical economics at the University of applied sciences in Hannover and received a bachelor as Medical Hospital Manager. Dr. Jaeckel spent a four years postdoctoral research fellowship with Harald von Boehmer at the Harvard Medical School/Joslin Diabetes Center, Boston working on central and peripheral tolerance mechanisms in type 1 diabetes. Since 2003, he has been leading the research group on immune tolerance and metabolic inflammation at the MHH. The group is focusing to establish tissue-specific tolerance in autoimmunity, transplantation and metabolic inflammation. Since 2008 he is attending for gastroenterology, hepatology, endocrinology and diabetology at Hannover Medical School.
Dr. Jaeckel's working group Immune Tolerance aims in establishing immune tolerance in type 1 diabetes and after biological beta cell replacement. For this purpose, he is developing new cell and gene therapy approaches. He is involved in pursuing islet xenotransplantation in Germany and to facilitate tolerance to stem cell derived beta cells. One major research focus is the change of specificity of regulatory T cells for beta cells by the use of chimeric antigen-receptors (CARs). In addition, he aims in local control of immune responses in metabolic inflammation in NASH patients.
He was co-chairing the collaborative research center transplantation for 12 years (CRC738), the CRC on xenotransplantation (CRC TR127) funded by the German Research Foundation and the Integrated Research Center Transplantation (IFB-Tx) funded by Federal Ministry for research and education. Besides this he received funding from the German Research Foundation, Ministry of Health, European Community, Helmsley Foundation, Juvenile Diabetes Research Foundation.
Dr. Jaeckel published numerous articles on viral hepatitis, autoimmune liver disease, autoimmune diabetes and islet transplantation tolerance. He developed tissue-specific regulatory T cell therapies for local tolerance induction, which are currently being tested in clinical trials. He has numerous patents on tolerance inducing therapies and is co-founder of Quell Therapeutics aiming to develop clinical therapies for tolerance induction with regulatory T cells.