The Medicine by Design Global Speaker Series invites established and emerging international leaders in regenerative medicine to engage with our extraordinary community of researchers and clinicians.
Medicine by Design, in partnership with the McEwen Stem Cell Institute, is pleased to welcome Dale Greiner, PhD, Professor of Molecular Medicine and Co-Director of the Diabetes Center of Excellence at University of Massachusetts Medical School.
The title of this talk will be, TBC
Register for this virtual event.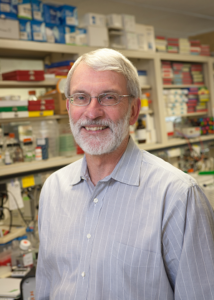 More About DALE GREINER:
Dr. Greiner is nationally and internationally recognized for pioneering the development and use of mice engrafted with functional human cells and tissues. This work has generated high interest in the biomedical research community for use as a preclinical model for the investigation of human diabetes, cancer, infectious disease, regenerative medicine and autoimmunity. The unique animal model allows Dr. Greiner and his team to investigate autoimmune type 1 diabetes and the cells that regulate immune responses in humans.
He currently serves as Vice Chair of the Institutional Animal Care and Use Committee and member of the Diabetes Research Center Executive Committee and the Flow Cytometry Advisory Committee. Over the past four decades, he has co-authored more than 300 publications in the research specialization areas of Immunology, Transplantation, Autoimmunity, and Diabetes.
Dr. Greiner has served as a regular member of the National Institutes of Health Immunology Sciences Study Section and the Hypersensitivity, Autoimmune, and Immune-mediated Diseases Study Section. He has also served as Chair of the Veterans Administration Immunology Review Subcommittee B and Chair of many ad hoc NIH and JDRF study sections. In addition, he has served as Chair of the Medical Science Review Committee for the Juvenile Diabetes Research Foundation, Chairman of the American Diabetes Association Scientific Sessions Committee, as well as Program Chair and Council Chair of the American Diabetes Association Council on Immunology, Immunogenetics and Transplantation.
The recipient of numerous awards for his research, Dr. Greiner has received the A.J. Julian Scholarship for Academic Excellence, the Basil O'Connor Scholar Research Award from the March of Dimes, and the Kayla and Gerald Grodsky and the David Rumbough Awards from the Juvenile Diabetes Research Foundation, Int.