APPLY NOW — DEADLINE IS SEPTEMBER 28, 2017
We are pleased to invite trainees from Medicine by Design-funded labs to submit abstracts for a poster session that will take place during our second annual symposium on Tuesday, December 5, 2017. Abstracts must focus on outcomes of currently funded Medicine by Design projects.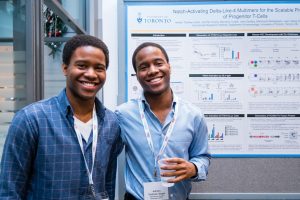 To be considered for this session, please submit the following form no later than Thursday, September 28, 2017. We will review submissions and communicate decisions on or before November 1, 2017. Late or incomplete submissions will not be considered. Posters will be judged during the symposium and awards will be presented to top-ranked posters.
Due to space restrictions, we will be able to accept a maximum of 40 poster presentations. To ensure the diversity of Medicine by Design-funded research is represented, we anticipate accepting no more than one or two abstracts from the same lab. All poster presenters must register to attend the symposium.
If you have any questions, please contact Payam Zahedi, Medicine by Design's scientific manager.